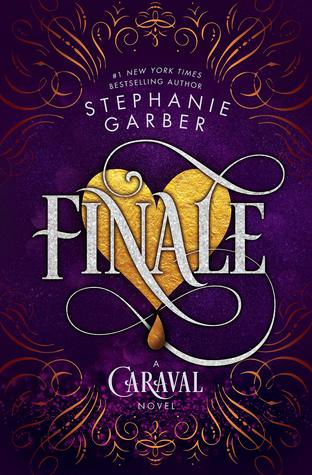 Overall Rating:
5 Stars
Title:
Finale
Author:
Stephanie Garber
Series:
Caraval #3
Format:
Exclusive edition from Owlcrate
Synopsis:
Welcome, welcome to Finale, the third and final book in Stephanie Garber's #1 New York Times bestselling Caraval series!
A love worth fighting for. A dream worth dying for. An ending worth waiting for.
It's been two months since the Fates were freed from a deck of cards, two months since Legend claimed the throne for his own, and two months since Tella discovered the boy she fell in love with doesn't really exist.
With lives, empires, and hearts hanging in the balance, Tella must decide if she's going to trust Legend or a former enemy. After uncovering a secret that upends her life, Scarlett will need to do the impossible. And Legend has a choice to make that will forever change and define him.
Caraval is over, but perhaps the greatest game of all has begun. There are no spectators this time: only those who will win, and those who will lose everything.
Welcome, welcome to Finale. All games must come to an end…
Review
I'm just going to say it: Finale is my all-time favorite, well, finale to a series I've ever read. Ever.

And that is saying a lot, because I've read a ton of series.
I wasn't sure what to expect, going into this book. I loved Caraval and somehow loved Legendary even more.
I wasn't sure how Stephanie Garber would take all the loose ends she left in Legendary and tie them up in a satisfying way, but goddammit she did and I loved every second of it.
I was absolutely on the edge of my seat, sucked up into this magical world until the very last page.
Do I want more? Of course I do. Do I need more? No, I don't think I do.
I was satisfied with how this series ended. I didn't want to leave the world of Caraval and I wanted more of a glimpse into the ever afters, but all my burning questions were answered and satisfied, even though I felt like I was hovering between two very different choices – unsure of which way I wanted them to go.
Though, I think I would have been happy with either ending, I'm happy with the way it turned out in any case.
As I knew while reading Legendary – Tella remains one of my all-time favorite heroines. She is one of the few who actually DESERVES two epic love interests. Most of the time, particularly in YA novels, we have these heroines caught in a love triangle with two heroes she doesn't deserve. More often than not, I'm questioning why the hell these guys actually the main character, but that is not the case in these books.
As was consistent throughout the series, Stephanie Garber's writing is just as extraordinary as her storytelling. I found myself underlining so many lines because of how eloquently they were put together.
The tension I felt while reading this novel nearly killed me, but it would have been a glorious death.
2019 is officially the year of reading books that have left me absolutely breathless.
---
Butterfly Rating: 5 Stars
---
Re-read Worthiness: HELL YES!
---
Bookshelf Placement: Already there!
I'm planning on buying the Barnes & Noble exclusive verstion as well.
---
Book Boyfriend Rating: 5 stars