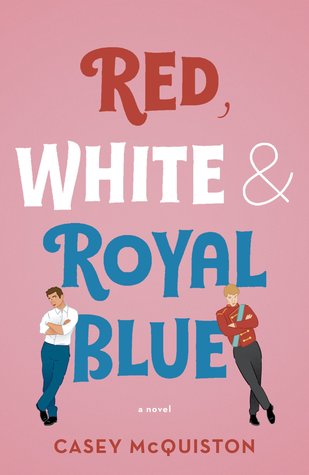 Overall Rating:
5 Stars
Title:
Red, White & Royal Blue
Author:
Casey McQuiston
Format:
Audiobook purchased from Audible
Synopsis:
A big-hearted romantic comedy in which First Son Alex falls in love with Prince Henry of Wales after an incident of international proportions forces them to pretend to be best friends…
First Son Alex Claremont-Diaz is the closest thing to a prince this side of the Atlantic. With his intrepid sister and the Veep's genius granddaughter, they're the White House Trio, a beautiful millennial marketing strategy for his mother, President Ellen Claremont. International socialite duties do have downsides—namely, when photos of a confrontation with his longtime nemesis Prince Henry at a royal wedding leak to the tabloids and threaten American/British relations.
The plan for damage control: staging a fake friendship between the First Son and the Prince. Alex is busy enough handling his mother's bloodthirsty opponents and his own political ambitions without an uptight royal slowing him down. But beneath Henry's Prince Charming veneer, there's a soft-hearted eccentric with a dry sense of humor and more than one ghost haunting him.
As President Claremont kicks off her reelection bid, Alex finds himself hurtling into a secret relationship with Henry that could derail the campaign and upend two nations. And Henry throws everything into question for Alex, an impulsive, charming guy who thought he knew everything: What is worth the sacrifice? How do you do all the good you can do? And, most importantly, how will history remember you?
Review
I knew I was going to fall in love with this book. And I wasn't wrong.
There has been such positive buzz about this book since the ARCs started getting sent out so the second I got my May credit for Audible, I preordered the audiobook.
I'd heard enough about this book in reviews from some of my favorite Booktubers and Book Bloggers, that I had a good idea about what I was getting into: a sweet romance set in a world I only hope one day becomes reality with a whole lot of humor.
There were no surprises. This book was all of those things.
I can't even tell you how many times I chuckled or full-on belly-laughed as I read this book — which is entirely unusual. It takes quite a bit for me to do much more than half-smile as I'm reading, nevermind laugh out loud.
And it's not that this book was slapstick, stupid-funny. It was quippy-and-smart funny.
There were so many characters in this novel that I absolutely adored aside from just the main characters. I loved absolutely everyone – and that's something that typically hints at a 5-star read for me. I have to love the characters, even if they are flawed.
I loved how, despite the struggles these characters faced, this books was very rose-colored. It's the happily ever after you dream of not just for the people in this novel, but for the countries, too.
I found myself a little melancholy, wishing that these people and their choices existed, that these elections and their outcomes existed.
And while I was saddened that this was a work of fiction, it also gave me hope.
---
Audiobook Performance: 5 stars
---
Butterfly Rating: 4 Stars
---
Re-read Worthiness: Absolutely
---
Bookshelf Placement: YES!
---
Book Boyfriend Rating: 5 stars