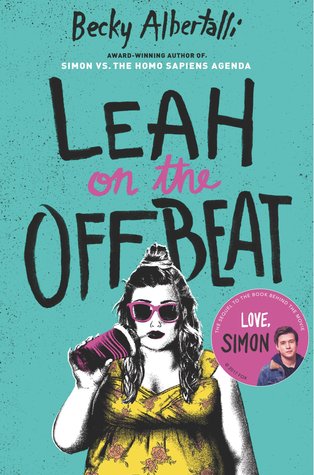 Overall Rating:
5 Stars
Title:
Leah on the Offbeat
Author:
Becky Albertalli
Series:
Creekwood #2
Format:
Audiobook borrowed from Library
Synopsis:
Leah Burke—girl-band drummer, master of deadpan, and Simon Spier's best friend from the award-winning Simon vs. the Homo Sapiens Agenda—takes center stage in this novel of first love and senior-year angst.
When it comes to drumming, Leah Burke is usually on beat—but real life isn't always so rhythmic. An anomaly in her friend group, she's the only child of a young, single mom, and her life is decidedly less privileged. She loves to draw but is too self-conscious to show it. And even though her mom knows she's bisexual, she hasn't mustered the courage to tell her friends—not even her openly gay BFF, Simon.
So Leah really doesn't know what to do when her rock-solid friend group starts to fracture in unexpected ways. With prom and college on the horizon, tensions are running high. It's hard for Leah to strike the right note while the people she loves are fighting—especially when she realizes she might love one of them more than she ever intended.
Review
Leah is one of those few grumpy characters that I absolutely loved. Yes, she was a little unnecessarily mean sometimes, but Becky has such an admirable ability to bring such vivid insight into the teenage brain, that I was able to channel my self-obsessed, know-it-all, whiny teenager as I read this book and really, surprisingly, relate to Leah.


I appreciated how Leah recognized when she overreacted or reacted inappropriately to situations, even though she couldn't really control it and maybe that is what ultimately redeemed her for me.
I felt so attuned and in touch with Leah through this novel, despite barely having anything in common with her. It's hard for me to relate to YA characters these days as my teenage years are a distant memory, particularly when I was nothing like this character when I WAS her age, but I felt I understood Leah.
I also absolutely loved visiting Bram and Simon once again, I am so in love with them and their group of friends.
Leah's love story wasn't my favorite, but I did like being inside her head and she floundered her way through it.
---
Audiobook Performance: 5 stars
---
Butterfly Rating: 2 Stars
---
Re-read Worthiness: Maybe
---
Bookshelf Placement: Yes!