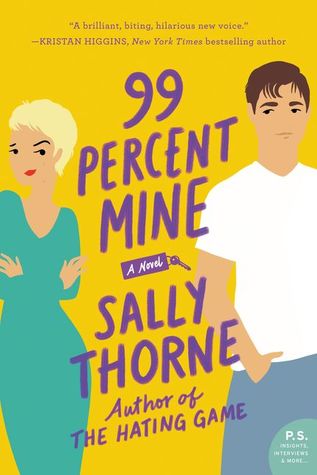 Overall Rating:
4 Stars
Title:
99 Percent Mine
Author:
Sally Thorne
Format:
Audiobook purchased from Audible
Synopsis:
Crush: a strong and often short-lived infatuation, particularly for someone beyond your reach…
Darcy Barrett has undertaken a global survey of men. She's travelled the world, and can categorically say that no one measures up to Tom Valeska, whose only flaw is that Darcy's twin brother Jamie saw him first and claimed him forever as his best friend. Despite Darcy's best efforts, Tom's off limits and loyal to her brother, 99%. That's the problem with finding her dream man at age eight and peaking in her photography career at age twenty—ever since, she's had to learn to settle for good enough.
When Darcy and Jamie inherit a tumble-down cottage from their grandmother, they're left with strict instructions to bring it back to its former glory and sell the property. Darcy plans to be in an aisle seat halfway across the ocean as soon as the renovations start, but before she can cut and run, she finds a familiar face on her porch: house-flipper extraordinaire Tom's arrived, he's bearing power tools, and he's single for the first time in almost a decade.
Suddenly Darcy's considering sticking around to make sure her twin doesn't ruin the cottage's inherent magic with his penchant for grey and chrome. She's definitely not staying because of her new business partner's tight t-shirts, or that perfect face that's inspiring her to pick up her camera again. Soon sparks are flying—and it's not the faulty wiring. It turns out one percent of Tom's heart might not be enough for Darcy anymore. This time around, she's switching things up. She's going to make Tom Valeska 99 percent hers.
Review
With all the lukewarm feelings about this book that so many in the bookish community have had, I was so worried about reading this one. I'd seen a few smattering of 5 star reviews here and there, but with the epic-greatness of The Hating Game, I wasn't sure this sophomore book could possibly live up to it.
But it did.
For the most part.
Here's the thing: Lucy from The Hating Game was such an entertaining, loveable, and adorable quirky character, I was almost put off a bit by Darcy and how rough-around-the-edges she was. I didn't expect to be almost put off by it during the first few chapters. I felt nostalgic about being in Lucy's head, where it was so out-of-left-field funny. It could be because I'm partial to upbeat characters like that and can usually do without grumpy chicks in books.
In any case, Darcy grew on me and I absolutely freaking adored Tom.
Sally Throne brought her A-Game with the hero once again.
This is going to sound super weird, but Tom reminded me so much of my sister and that's why I loved him so much.
Let me explain.
See, my sister has the same issue that Tom has, which made me feel like I truly understood his struggle. Tom is The Perfect Guy… and the worst part about that is he lives up to it. But it's not easy and it's incredibly stressful to maintain that level of perfection. Nobody can for such an extended period of time. Trying to live up to others' impossible expectations – and your own impossibly expectations – will break you.
My sister is the same way.
When you can flaunt your flaws, it makes life so much easier, but when you set the standards so high and are teetering on the pedestal you and your close friends and family have put you on, you're bound to lose your balance.
And while I typically don't particularly enjoy negative sibling relationships, it was done in a way in 99 Percent Mine that didn't make me cringe enough to put down the book. Oh, don't get me wrong, I hated Darcy's brother several times throughout the books, but I also understood how much he really did love his sister.
All in all, this book has everything I've come to expect from Sally Thorne, her writing style is so refreshing and unique, she has such a succinct and impressive way with words that no other author can emulate.
---
Audiobook Performance: 5 stars
---
Butterfly Rating: 3 Stars
---
Re-read Worthiness: Maybe
---
Bookshelf Placement: Already there!
---
Book Boyfriend Rating: 5 stars