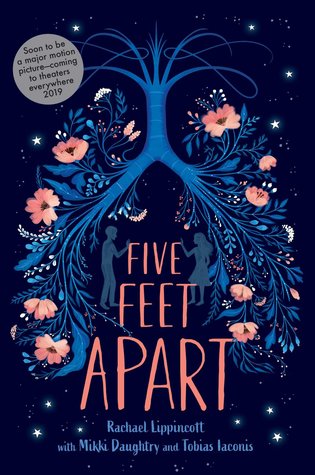 Overall Rating:
5 Stars
Title:
Five Feet Apart
Author:
Rachael Lippincott
Format:
Hardcover book purchased from Barnes & Noble
Synopsis:
Can you love someone you can never touch?
Stella Grant likes to be in control—even though her totally out of control lungs have sent her in and out of the hospital most of her life. At this point, what Stella needs to control most is keeping herself away from anyone or anything that might pass along an infection and jeopardize the possibility of a lung transplant. Six feet apart. No exceptions.
The only thing Will Newman wants to be in control of is getting out of this hospital. He couldn't care less about his treatments, or a fancy new clinical drug trial. Soon, he'll turn eighteen and then he'll be able to unplug all these machines and actually go see the world, not just its hospitals.
Will's exactly what Stella needs to stay away from. If he so much as breathes on Stella she could lose her spot on the transplant list. Either one of them could die. The only way to stay alive is to stay apart. But suddenly six feet doesn't feel like safety. It feels like punishment.
What if they could steal back just a little bit of the space their broken lungs have stolen from them? Would five feet apart really be so dangerous if it stops their hearts from breaking too?

 
Review
This book was everything I hope the movie will be. (And I plan on seeing the movie this weekend.)
I've been following Claire Wineland's story since I came across her My Last Days documentary a while ago.
For those of you who don't know Claire's story, she was an incredible, inspiring girl who used her platform on social media to shine a light on Cystic Fibrosis. She teamed up with Justin Baldoni (Rafael from Jane the Virgin) for this documentary (and other projects) and learned valuable public speaking skills from a professional so that she could use her voice in front of live audiences.
Unfortunately she passed away recently due to complications from a lung transplant.
I *believe* it was her story that inspired the movie and book Five Feet Apart, which is Justin Baldoni's first movie. (Justin, by the way, is God's gift to women, not just because he's gorgeous, but because he's a feminist and all around good father/husband/human being who is making such a big difference in the world.)
Anyway, that is where my interest in this book began. With Claire's story and, upon further research, Justin Baldoni's projects.
I was SO excited when I saw the first teaser trailer and even more excited when I saw the book in Barnes and Noble several weeks later.
The cover is stunning and the story sounded so, so good.
And I wasn't wrong. The pages inside that gorgeous cover lived up to my expectations.
From what I understand and have seen from reactions from Cystic Fibrosis patients, this book does the disease justice with it's honest and real depiction of the lives these people lead.
I think the thing I love the most about this book, aside from the breathtaking romance and heart wrenching story, is the attention it will draw to the disease that desperately needs a cure.
This book even spurred a conversation between my 6yo daughter and I when she saw me reading the book. She asked me what it was about, which led me to discuss the disease. We even watched Claire's documentary together.
When she asked me why someone would write about such a sad subject, I explained to her that the it's ultimate purpose is to bring attention to this disease. "Maybe one day, because I read this book and shared it with you, you will grow up to become the person that cures this disease."
She told me she wants to be a doctor when she grows up, now.
(Of course, she also told me she wants to go to Princeton because it has the word "Prince" in it, but I'll call it a win for now.)
I highly recommend supporting this story: buy the book, go see the movie this weekend, you won't regret it.
---
Butterfly Rating: 5 Stars

So, so many sweet butterflies.
---
Re-read Worthiness: YES!
I'm sure I'll want to re-read it after I see the movie! I wonder if it's on audio…
---
Bookshelf Placement: YES!
It's already there!
---
Book Boyfriend Rating: 5 stars

I can't even tell you how much I freaking love Will.