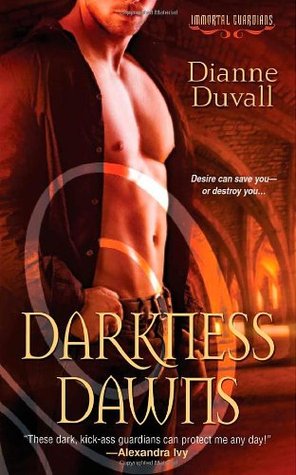 Overall Rating:
5 Stars
Title:
Darkness Dawns
Author:
Dianne Duvall
Series:
Immortal Guardians #1
Format:
Audiobook purchased from Audible
Synopsis:
In this dazzling, sensual novel, Dianne Duvall beckons readers into a world of vampires, immortals, and humans with extraordinary gifts…where passion can last forever, if you're willing to pay the price…
Once, Sarah Bingham's biggest challenge was making her students pay attention in class. Now, after rescuing a wounded stranger, she's landed in the middle of a battle between corrupt vampires and powerful immortals who also need blood to survive. Roland Warbrook is the most compelling man Sarah has ever laid hands on. But his desire for her is mingled with a hunger he can barely control…
In his nine centuries of immortal existence, no woman has tempted Roland as much as Sarah. But asking her to love him is impossible—when it means forfeiting the world she's always known, and the life he would do anything to protect…
Review
This was the paranormal romance I needed in my life at a time when I wasn't in the mood for a paranormal romance.

I'd been in and out of a book slump, and I hadn't been in the mood for a paranormal romance, but I was on a mission to power through all the books in the Audible library that I hadn't read yet… this one just happened to be one of the books that had been sitting in my library for a really long time.
I was surprised by how much I enjoyed this story. I thought I'd have to push through this one, but I found myself looking forward to reading it every day. (And finding things that I could do while listening to the audio.)
I love, love, love Sarah and Roland's story, but oh my goodness I was so falling for Seth from the second he was introduced. You know you have some great character-building when you fall in love with secondary characters.
This book had everything I love in paranormal romance: intense love story, intriguing characters, and great world-building. (A unique meetcute is always appreciated, too!)
---
Audiobook Performance: 4 stars
---
Butterfly Rating: 3 Stars
---
Re-read Worthiness: Probably Not
---
Bookshelf Placement: Nah
I kind of hate the cover.
---
Book Boyfriend Rating: 4 stars