I had one of the best reading months in January! Most of the books I chose to read this month, I was pretty positive would be 5 star reads, and for the most part, I was right.
It's been a long time since I've had such a great reading month, I'm still kind of reveling in it LOL!
Here are my favorites from the past month.
---
Favorite Reads from January
Images link to Goodreads
Aristotle and Dante Discover the Secrets of the Universe (Aristotle and Dante Discover the Secrets of the Universe, #1) by Benjamin Alire Sáenz

Aristotle is an angry teen with a brother in prison. Dante is a know-it-all who has an unusual way of looking at the world. When the two meet at the swimming pool, they seem to have nothing in common. But as the loners start spending time together, they discover that they share a special friendship—the kind that changes lives and lasts a lifetime. And it is through this friendship that Ari and Dante will learn the most important truths about themselves and the kind of people they want to be.
Oh my goodness, this book… I knew I would like this book, but I didn't realize how strongly I would feel about it! If you've been on the fence about reading this one, I highly recommend you give it a shot. Check out my favorite quotes from this book here.
---
Atheists Who Kneel and Pray by Tarryn Fisher

She dates men who need her, but always moves on to something new, never staying in one place for very long.

David Lisey is in need of a muse.

A talented musician lacking lyrical inspiration. When he first sees her, he knows he's found what he's been looking for.

Yara believes she can give David exactly what he needs to reach his full potential:
A broken heart.

David's religion is love.

Yara's religion is heartache.

Neither is willing to surrender, but religion always requires sacrifice.
The writing, the characters, the story… this book took me on a beautiful journey and I loved every second of it.
---
The Seven Husbands of Evelyn Hugo by Taylor Jenkins Reid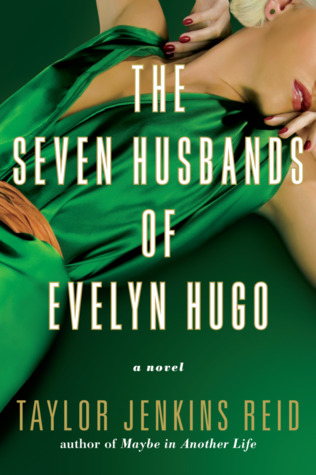 Aging and reclusive Hollywood movie icon Evelyn Hugo is finally ready to tell the truth about her glamorous and scandalous life. But when she chooses unknown magazine reporter Monique Grant for the job, no one is more astounded than Monique herself. Why her? Why now?

Monique is not exactly on top of the world. Her husband has left her, and her professional life is going nowhere. Regardless of why Evelyn has selected her to write her biography, Monique is determined to use this opportunity to jumpstart her career.

Summoned to Evelyn's luxurious apartment, Monique listens in fascination as the actress tells her story. From making her way to Los Angeles in the 1950s to her decision to leave show business in the '80s, and, of course, the seven husbands along the way, Evelyn unspools a tale of ruthless ambition, unexpected friendship, and a great forbidden love. Monique begins to feel a very real connection to the legendary star, but as Evelyn's story near its conclusion, it becomes clear that her life intersects with Monique's own in tragic and irreversible ways.

Written with Reid's signature talent for creating "complex, likable characters" (Real Simple), this is a mesmerizing journey through the splendor of old Hollywood into the harsh realities of the present day as two women struggle with what it means—and what it costs—to face the truth.
I feel like the premise of this book does not give it any justice because this book is so much more than it seems. Read this and try not to wish desperately that you could watch a movie with Evelyn Hugo in it.
---
Poison Study (Poison Study #1) by Maria V. Snyder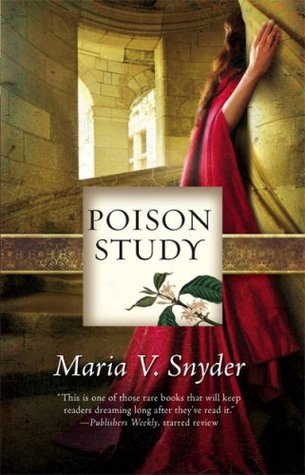 Choose: A quick death…Or slow poison…

About to be executed for murder, Yelena is offered an extraordinary reprieve. She'll eat the best meals, have rooms in the palace—and risk assassination by anyone trying to kill the Commander of Ixia.

And so Yelena chooses to become a food taster. But the chief of security, leaving nothing to chance, deliberately feeds her Butterfly's Dust—and only by appearing for her daily antidote will she delay an agonizing death from the poison.

As Yelena tries to escape her new dilemma, disasters keep mounting. Rebels plot to seize Ixia and Yelena develops magical powers she can't control. Her life is threatened again and choices must be made. But this time the outcomes aren't so clear…
Aside from the story being incredibly interesting, I think my favorite thing about this book was Yelena. She's badass without being completely in your face about it. It is her bravery, not necessarily her physical strength, that makes her such an appealing main character.
---
How to Date Your Dragon (Mystic Bayou #1) by Molly Harper

Anthropologist Jillian Ramsay's career has taken a turn south.

Concerned that technology is about to chase mythological creatures out into the open (how long can Sasquatch stay hidden from Google maps?), the League for Interspecies Cooperation is sending Jillian to Louisiana on a fact-finding mission. While the League hopes to hold on to secrecy for a little bit longer, they're preparing for the worst in terms of human reactions. They need a plan, so they look to Mystic Bayou, a tiny town hidden in the swamp where humans and supernatural residents have been living in harmony for generations. Mermaids and gator shifters swim in the bayou. Spirit bottles light the front porches after twilight. Dragons light the fires under crayfish pots.

Jillian's first assignment for the League could be her last. Mystic Bayou is wary of outsiders, and she has difficulty getting locals to talk to her. And she can't get the gruff town sheriff, Bael Boone, off of her back or out of her mind. Bael is the finest male specimen she's seen in a long time, even though he might not be human. Soon their flirtation is hotter than a dragon's breath, which Bael just might turn out to be….
Oh my goodness, you guys, this book was so great and I 100% was not expecting to like it nearly as much as I do! This was the perfect light, funny read with all sorts of super fun supernatural beings and characters in a small town reminiscent of Stars Hollow from Gilmore Girls if Stars Hollow had shifters and other magical beings.
---
The Song of Achilles by Madeline Miller

Greece in the age of heroes. Patroclus, an awkward young prince, has been exiled to the court of King Peleus and his perfect son Achilles. By all rights their paths should never cross, but Achilles takes the shamed prince as his friend, and as they grow into young men skilled in the arts of war and medicine their bond blossoms into something deeper – despite the displeasure of Achilles' mother Thetis, a cruel sea goddess. But then word comes that Helen of Sparta has been kidnapped. Torn between love and fear for his friend, Patroclus journeys with Achilles to Troy, little knowing that the years that follow will test everything they hold dear.

Profoundly moving and breathtakingly original, this rendering of the epic Trojan War is a dazzling feat of the imagination, a devastating love story, and an almighty battle between gods and kings, peace and glory, immortal fame and the human heart.
OMGGGGGGGG as if I didn't love the story of Achilles enough, having it told through Patroclus's POV made it a million times more appealing. I was not expecting my heart to be nearly as affected by this book as it was.
---
What were your favorite reads from January?