Review by Kayla, In Love & Words Teen Reader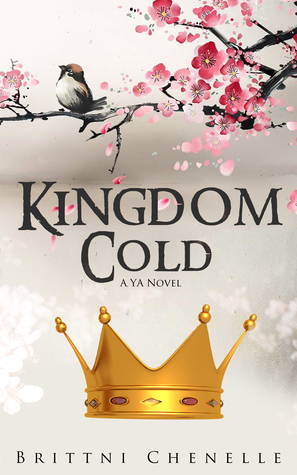 Overall Rating:
4 Stars
Title:
Kingdom Cold
Author:
Brittni Chenelle
Format:
ARC Received in Exchange for an Honest Review
Synopsis:
Attempted murder, that's how sixteen-year-old Princess Charlotte's engagement starts. It seems like the only thing she has in common with Prince Young of Vires is their mutual discontent.
When her kingdom's attacked, Charlotte's parents renegotiate her hand in marriage to a handsome stranger with a sinister plan. With the people Charlotte loves dying around her, and her kingdom's future at stake, the only person she can turn to is the prince she betrayed. But, should she save her kingdom or her heart?
One must fall.
Review
Looking for a book with romance, royalty, and an intense plot twist? This is the book for you!
I'm SO sad it's over, I want more!
This is definitely my type of book and really enjoyed it. From the very first sentence, I was instantly intrigued. I was surprised at all of the POVs in this book, but thought that it worked really well with the story.
I liked that the chapters were generally on the shorter side because you got to see a situation from many different POVs. Just about all of the chapters started and ended so strong you didn't want to stop. However, I feel that this story could have been even longer with more in depth detail with Princess Charlotte and Prince Young's relationship because I loved them together so much!
Throughout the entire story, I liked Prince Young right away and he just kept getting better and better. I was praying nothing would tear them apart. I also think that more closure with the other characters such as Minseo and Milly would have also been good for the story as well.
Charlotte is such a strong character and I can't stop loving her and Young together. The last few chapters had my mouth dropping open in surprise whispering "No, no, no! It can't end! OMG!"
---
Butterfly Rating: 3 Stars
---
Book Boyfriend Rating: 5 stars

Young is such a swoon worthy book boyfriend! He is so sweet and his gestures toward Charlotte are always adorable. I love that he doesn't really know how to comfort a girl when she is crying but he tries his best anyway. So cute! I wish there was more of him because I'm pretty sure I fell in love with yet again, another book boyfriend.
---
Age Recommendation: 13+