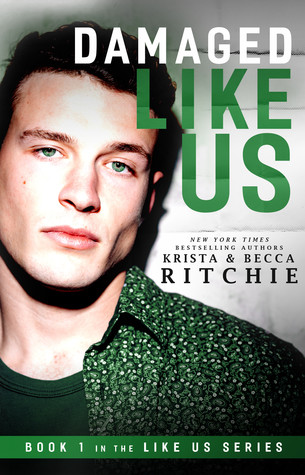 Overall Rating:
4 Stars
Title:
Damaged Like Us
Author:
Krista Ritchie, Becca Ritchie
Series:
Like Us #1
Format:
Audiobook purchased from Audible
Synopsis:
Don't date your bodyguard.
It was the one rule he had to break.
Maximoff Hale is a force of nature. A ship unwilling to be steered. Headstrong, resilient, and wholly responsible — the twenty-two-year-old alpha billionaire can handle his unconventional life. By noon, lunch can turn into a mob of screaming fans. By two, his face is all over the internet.
Born into one of the most famous families in the country, his celebrity status began at birth.
He is certified American royalty.
When he's assigned a new 24/7 bodyguard, he comes face-to-face with the worst case scenario: being attached to the tattooed, MMA-trained, Yale graduate who's known for "going rogue" in the security team — and who fills 1/3 of Maximoff's sexual fantasies.
Twenty-seven-year-old Farrow Keene has one job: protect Maximoff Hale. Flirting, dating, and hot sex falls far, far out of the boundary of his bodyguard duties and into "termination" territory. But when feelings surface, protecting the sexy-as-sin, stubborn celebrity becomes increasingly complicated.
Together, boundaries blur, and being exposed could mean catastrophic consequences for both.
The Like Us series is a true series, one continuous timeline, that follows a family of wealthy celebrities and the people that protect them. Damaged Like Us can be read and enjoyed without reading any of Krista & Becca's other novels.
Review
This book was a solid 4 star read for me.
I know I'm kind of late to the game with this one… this was super popular a while ago, and I'm pretty sure I bought it around the same time, but for some reason I put off reading it.
My favorite thing about this book was the banter between Maximoff and Farrow. Also, the descriptions of all of Maximoff's relatives was such a unique addition that I really appreciated.
However, I'm not at all into the whole celebrity thing. Particularly this type of "American Royalty" stuff. I can't exactly pinpoint why this was a deterrent for me, particularly in this book, but it says a lot for the rest of the book that I mostly enjoyed it despite this peeve of mine.
I adored Maximoff's loyalty and love to his family … and how Farrow didn't only recognize it, but respected it.
TBH Maximoff's relationship with his cousin made me kind of uncomfortable, but I sort of understood after the big blow up at the end.
Anyway, I really enjoyed this book. Will I read the rest of the series? Probably not as it looks as though it continues to follow Maximoff and Farrow, but I'm glad I read this one.
---
Audiobook Performance: 4 stars
---
Butterfly Rating: 2 Stars
---
Re-read Worthiness: No
---
Bookshelf Placement: No
---
Book Boyfriend Rating: 3 stars