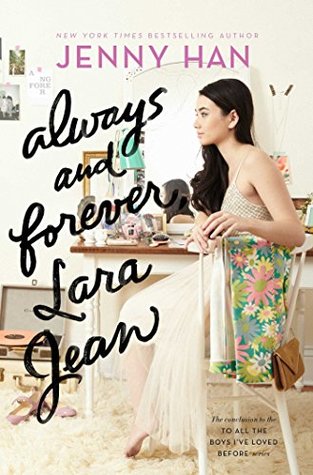 Overall Rating:
5 Stars
Title:
Always and Forever Lara Jean
Author:
Jenny Han
Series:
To All the Boys I've Loved Before
Format:
Audiobook purchased from Audible
Synopsis:
Lara Jean is having the best senior year.
And there's still so much to look forward to: a class trip to New York City, prom with her boyfriend Peter, Beach Week after graduation, and her dad's wedding to Ms. Rothschild. Then she'll be off to college with Peter, at a school close enough for her to come home and bake chocolate chip cookies on the weekends.
Life couldn't be more perfect!
At least, that's what Lara Jean thinks . . . until she gets some unexpected news.
Now the girl who dreads change must rethink all her plans—but when your heart and your head are saying two different things, which one should you listen to?
Review
Bree's Review
You guys… I finally read this book.
I've been putting off reading the third book in this series because I didn't want Lara Jean and Peter to have any more issues! I just wanted them to live happily ever after after the second book and I was so afraid to read this one because I flipping KNEW there would be all sorts of conflict.
I wasn't wrong, but everything that happened to this beloved couple was fairly bearable. Granted, there were a few moments I absolutely hated Peter for his idiocy and I just wanted Lara Jean to run away with John Ambrose (I still wonder if he was the better choice).
Everything I loved in the previous two books, I loved in this one.
And I feel like I would be remiss to add a little something about the Netflix movie for the first book.
I. Freaking. Loved. It.
I think they nailed the characters 100% and the minor changes that they made were perfectly fine with me.
I'm DYING for them to make the rest of the books into a movie and if you love this series as much as I have, please be vocal about that love! Shout it from the rooftops (or your social media outlets) so that Netflix knows WE WANT MORE! (And we want to meet John Ambrose!)
Kayla's Review
I officially don't know what to do with my life now that I can't spend all my free time reading this amazing series.
*sigh* The series is officially over but it's ok because I loved every second of it and I loved how it ended.
The characters in this series were all so unique and enjoyable (besides Gen, but it's ok she played an important role).
Kitty was probably my favorite minor character because she is so unique and witty for such a young girl. She has so much sass and personality and it's impossible not to love her!
Margot definitely has a big sister, protective personality and I love how she puts her sisters first and just is so mature.
Chris is a smaller character, but also has a major role in this series. She is so outgoing and adventurous and I feel like it was important to have someone like her especially because she was the opposite of Lara Jean which made their friendship even greater.
Lara Jean, the main character, the "quirky" and innocent, but not naïve. She has a great style that screams her personality and is someone that I can kind of relate to.
---
Audiobook Performance: 5 stars

There is no one better to narrate this series than Laura Knight Keating. She's one of my favorite narrators for YA.
---
Butterfly Rating: 4 Stars
---
Re-read Worthiness: Absolutely
---
Bookshelf Placement: Yes!
---
Book Boyfriend Rating: 4 stars

Bree's Rating: 4 Stars – I love Peter in all the other books, but he lost some major points for me in this one for awhile. He, of course, redeemed himself, but I still had to deduct a star!
Kayla's Rating: 5 Stars – I know in the past two reviews I said he was a ⅘ star book boyfriend but here's the thing: although there would be little times that made me think he was less than perfect, I think he does deserve to be a five star book boyfriend because he does so many wonderful things in this story! I mean, who couldn't fall for Peter Kavinsky?!?! My favorite thing about Peter might be his relationship with Kitty because I love how he is Kitty's sister's boyfriend and he includes her so much and has an amazing relationship with her. Again, who couldn't love Peter?
---
Kayla's Age Recommendation: 14+