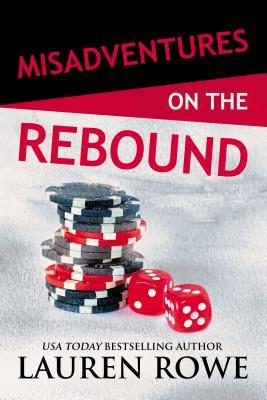 Overall Rating:
5 Stars
Title:
Misadventures on the Rebound
Author:
Lauren Rowe
Series:
Misadventures #18
Format:
Hard Copy ARC from Author
Synopsis:
***MISADVENTURES ARE STANDALONE ROMANCES THAT CAN BE READ IN ANY ORDER***

After getting canned from her dream job this morning and played in spectacular fashion by her boyfriend this afternoon, Savannah "Savvy" Valentine is having a truly awful day. Which is why she's currently drowning her sorrows in whiskey and self-pity in a shabby bar along the route to Las Vegas.

In light of today's double whammy, Savvy isn't sure why she's still heading in the direction of her five-year high school reunion. The only reason she'd wanted to attend the reunion in Vegas in the first place was to show the captain of the football team, the guy who took her virginity and then promptly rejected her, that the captain of the math team grew up to have all enviable hot things: hot body, hot boyfriend, and hot career. Now, the only "hot" thing about Savvy Valentine is her mess.

But when a gorgeous stranger with sandy hair, a leather jacket, and motorcycle helmet walks into the bar, Savvy's awful day suddenly looks a whole lot brighter. The man is perfection. Sexy and mysterious. And he's heading to Las Vegas, too.

Can one wild night with a sexy stranger in the middle of nowhere lead a girl to fall desperately and deeply in love in Las Vegas? Savvy Valentine is about to find out.
Review
To be completely honest, I didn't really know much about this book before I got it. I knew it was in the works, but I also knew that if I read the synopsis before it came out, I'd become ridiculously impatient for its release… so I just added it to my TBR and tried to forget about it until release day to save myself from suffering.

That is, until Shameless Book Con came around where I saw Lauren in person and couldn't help gushing about how much I love all her books and she surprised me by giving me the arc.
The moment I read the synopsis, I knew it would shoot directly to the top of my TBR pile.
The last Misadventures book I read by Lauren Rowe went down in history as one of my all-time favorite reads with one of my all-time favorite book boyfriends… needless to say, the bar was set incredibly high.
So high, in fact, that part of me worried that this book would not live up to my expectations.
Why I question it, I have no idea. I had absolutely nothing to worry about.
After several weeks of misses in nearly every new book I read, Misadventures on the Rebound was such a refreshing read. It has every element I'd been looking for in a romance novel: white-hot chemistry, interesting and likeable characters, and an interesting and believable storyline.
Like all of Lauren Rowe's couples, I flipping loved Aiden and Savvy together.
Misadventures on the Rebound releases November 20, you can preorder it here.
---
Butterfly Rating: 4 Stars
---
Re-read Worthiness: Maybe!
---
Bookshelf Placement: YES
---
Book Boyfriend Rating: 4 stars