Review by Kayla, In Love & Words Teen Reader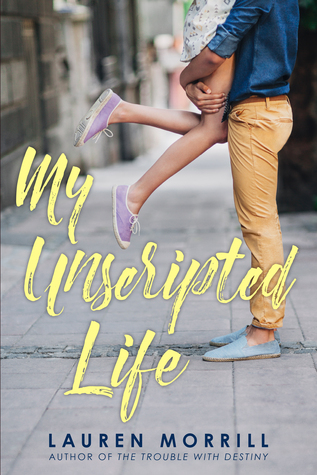 Overall Rating:
4 Stars
Title:
My Unscripted Life
Author:
Lauren Morril
Synopsis:
Sometimes love stories go off script.
Another sultry Georgia summer is about to get a lot hotter. Dee Wilkie is still licking her wounds after getting rejected by the precollege fine arts program of her dreams. But if she'd gone away, she wouldn't have been around to say yes to an unbelievable opportunity: working on the set of a movie filming in her small Southern town that just happens to be starring Milo Ritter, the famous pop star Dee (along with the rest of the world) has had a crush since eighth grade.
It's not like Dee will be sharing any screen time with Milo—she's just a lowly PA. And Milo is so disappointingly rude that Dee is eager to stay far away from him. Except after a few chance meetings, she begins to wonder if just maybe there's a reason for his offensive attitude, and if there's more to Milo than his good looks and above-it-all Hollywood pedigree. Can a relationship with a guy like Milo ever work out for a girl like Dee? Never say never. . .
Review
I LOVE books like this!
Books like this are what I truly enjoy! One of my favorite books to read are the "celebrity falls in love with girl". It's so cliché, but they are honestly so fun to read. The only thing that I didn't like about this book were the names of the main characters, but just like any other book, you just get used to it.
I liked how this book ended and it was very refreshing to read contemporary after I've read so many paranormal books, I like to change it up. Not only was this a good book in general but also funny. It had me laughing out loud multiple times.
---
Butterfly Rating: 2 Stars
---
Book Boyfriend Rating: 4 stars

Milo was sweet!
---
Age Recommendation: 12+