Review by Kayla, In Love & Words Teen Reader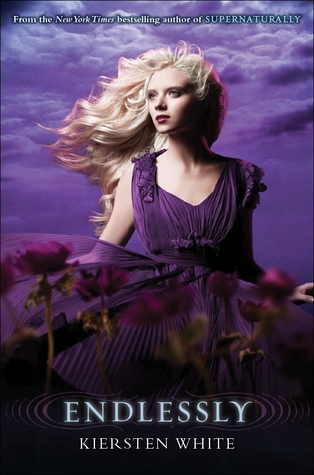 Overall Rating:
5 Stars
Title:
Endlessly
Author:
Kiersten White
Series:
Paranormalcy #3
Synopsis:
In Endlessly, pink-loving, butt-kicking Evie has way too much on her to-do list. Paranormals are begging her to open a faerie gate so they can leave the human world, something Evie's not sure she has the power to do. The Dark Queen is torturing humans and must be destroyed.
On top of all that, Evie's prom is coming up. She's not sure what to wear, and, oh, yeah, her shape-shifting boyfriend, Lend, has been cursed so that he falls into an enchanted sleep whenever he and Evie are in the same room…and even Evie's ex-boyfriend, the faerie Reth, can't reverse the dark magic.
An epic battle is looming, and the choices Evie makes will determine the fate of whole paranormal world—and her own life.
Review
I finished the entire series and now I'm wondering what I'm going to do now that I'm not soaking up those books all day!
SO GOOD! I loved this series so much!
I was happy with the way this book ended. Everything turned out perfectly and molded into an amazing trilogy.
Read this if you like paranormal books, you won't regret it. I loved all the characters in this book and the different paranormal creatures.
Overall, I loved this series, the hard part now is finding out what to read next!
---
Butterfly Rating: 2 Stars
---
Book Boyfriend Rating: 5 stars
---
Age Recommendation: 13+