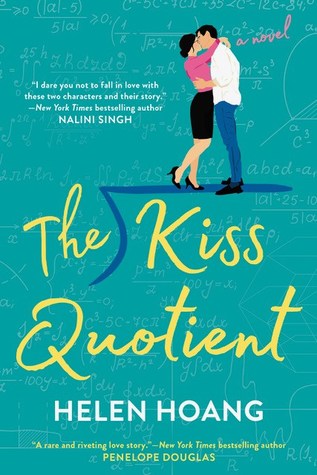 Overall Rating:
5 Stars
Title:
The Kiss Quotient
Author:
Helen Hoang
Format:
Audiobook purchased from Audible
Synopsis:
Stella Lane thinks math is the only thing that unites the universe. She comes up with algorithms to predict customer purchases–a job that has given her more money than she knows what to do with, and way less experience in the dating department than the average thirty-year-old.
It doesn't help that Stella has Asperger's and French kissing reminds her of a shark getting its teeth cleaned by pilot fish. Her conclusion: she needs lots of practice–with a professional. Which is why she hires escort Michael Phan. The Vietnamese and Swedish stunner can't afford to turn down Stella's offer, and agrees to help her check off all the boxes on her lesson plan–from foreplay to more-than-missionary position…
Before long, Stella not only learns to appreciate his kisses, but to crave all the other things he's making her feel. Soon, their no-nonsense partnership starts making a strange kind of sense. And the pattern that emerges will convince Stella that love is the best kind of logic…
Review
This book has gotten so much hype, I just KNEW I had to read it! Also… Asian author? Yes, please!
Give. Me. More.
It was an absolute pleasure being inside of Stella's head, even when she was uncomfortable and hurting, because I felt like this was such a great way to begin to understand this disorder.
And honestly? As someone who has anxiety, I totally got it. I totally understood Stella's stressors and her decisions made perfect sense when described as Helen did.
I only, just moments before writing this review, found out that Helen has Autism Spectrum Disorder herself and it made me love her a little more. I suspected that this was the case because of how intimately we get to know the inner workings of Stella's mind.
Stella wasn't the only loveable and real character in this novel. I absolutely fell head-over-heels for Michael, too. (Please believe I looked up Daniel Henney and instantly fell in love)
I was completely invested in this story. My heart soared, it broke, it beat wildly in my chest, it ached… and it was butterflies the entire way through.
---
Audiobook Performance: 5 stars

Carly Robins was the absolute perfect narrator for this story!
---
Butterfly Rating: 4 Stars
---
Re-read Worthiness:Yes
---
Bookshelf Placement: Yes
---
Book Boyfriend Rating: 3 stars

If it wasn't for his profession…