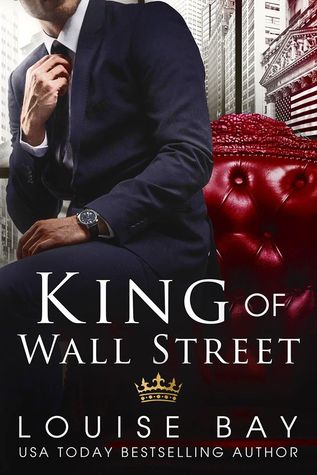 Overall Rating:
3 Stars
Title:
King of Wall Street
Author:
Louise Bay
Format:
Audiobook purchased from Audible
Synopsis:
I keep my two worlds separate.
At work, I'm King of Wall Street. The heaviest hitters in Manhattan come to me to make money. They do whatever I say because I'm always right. I'm shrewd. Exacting. Some say ruthless.
At home, I'm a single dad trying to keep his fourteen year old daughter a kid for as long as possible. If my daughter does what I say, somewhere there's a snowball surviving in hell. And nothing I say is ever right.
When Harper Jayne starts as a junior researcher at my firm, the barriers between my worlds begin to dissolve. She's the most infuriating woman I've ever worked with.
I don't like the way she bends over the photocopier—it makes my mouth water.
I hate the way she's so eager to do a good job—it makes my dick twitch.
And I can't stand the way she wears her hair up exposing her long neck. It makes me want to strip her naked, bend her over my desk and trail my tongue all over her body.
If my two worlds are going to collide, Harper Jayne will have to learn that I don't just rule the boardroom. I'm in charge of the bedroom, too.
Review
I've been putting off reading this book for awhile because I felt, just by the title, that I knew exactly how it would play out: a hard-working woman has a love/hate attraction to her a-hole boss (who is also a womanizer) while he is thinking about how annoying she is because she's beautiful and he wants to sleep with her until, eventually, they fall in love.

While I wasn't entirely wrong, this story proved to be a bit deeper than I expected.
I was thisclose to giving up on the book as soon as it was Max's point of view and he oh-so-predictably started talking about how he wanted Harper on her knees or whatever.
I know. The synopsis is basically just that and if it annoys me so much, then why did I read it?
Here's the thing: I didn't read the synopsis before I read this book. I actually bought this book several months ago and it's been sitting in my Audible library since then. And since I'm going through and listening to all the books that have been haunting my Audible library, I went into this one without rereading the synopsis again.
Anyway, beyond the stereotypes and the unoriginality, the redeeming part of this book were the other relationships. Between Max and his daughter, Harper and her best friend, Harper and her father… how all of those relationships were portrayed and played out, made up for the mundane same old/same old.
Like I mentioned in the title of this post, this is my first Louise Bay novel. While I didn't find anything outstanding about the writing, it wasn't distractingly bad, either. I think, depending on how good her other books sound and how well they have been received, I'd be willing to read more from this author.
I will say, because this book was pretty unoriginal, the synopsis of the next book I read from her would have to be pretty great.
---
Audiobook Performance: 5 stars

Andi Arndt and Sebastion York are two of my favorite audiobook readers, and paired together they're like a dream team!
---
Butterfly Rating: 2 Stars
---
Re-read Worthiness: No
---
Bookshelf Placement: No
---
Book Boyfriend Rating: 3 stars