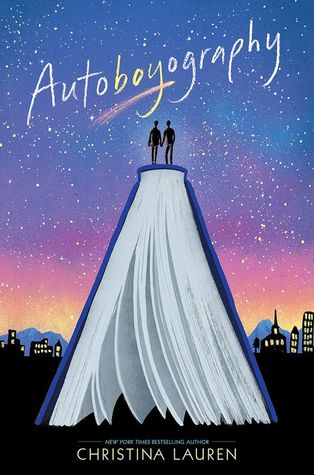 Overall Rating:
5 Stars
Title:
Autoboyography
Author:
Christina Lauren
Format:
Audiobook purchased from Audible
Synopsis:
Three years ago, Tanner Scott's family relocated from California to Utah, a move that nudged the bisexual teen temporarily back into the closet. Now, with one semester of high school to go, and no obstacles between him and out-of-state college freedom, Tanner plans to coast through his remaining classes and clear out of Utah.
But when his best friend Autumn dares him to take Provo High's prestigious Seminar—where honor roll students diligently toil to draft a book in a semester—Tanner can't resist going against his better judgment and having a go, if only to prove to Autumn how silly the whole thing is. Writing a book in four months sounds simple. Four months is an eternity.
It turns out, Tanner is only partly right: four months is a long time. After all, it takes only one second for him to notice Sebastian Brother, the Mormon prodigy who sold his own Seminar novel the year before and who now mentors the class. And it takes less than a month for Tanner to fall completely in love with him.
Review
Christina and Lauren knocked it out of the park with this one. Out. Of. The. Park.

I'm going to keep this review short and sweet because there are so many amazing reviews out there for this book that have said everything I want to say much more eloquently. (I'm looking at you Meltotheany).
I've only read(ish) four Christina Lauren books: Dating You Hating You, Sweet Filthy Boy, this one, and I DNF'd Beautiful Bastard. I only liked Dating You Hating You, adored Sweet Filthy Boy, couldn't get through Beautiful Bastard, and was completely blown away by Autoboyography.
I actually didn't know that these authors wrote YA and after reading this one, I can't wait to get my hands on their other YA novels. If you've read any, can you recommend a few?
This was the YA version of HIM that I've always wanted for young adults. This and Simon Vs. The Homo Sapiens Agenda makes me so freaking excited for this generation.
I think one of the best things about listening to this on audio was the unexpected interview between Christina, Lauren, and the main narrator, Deacon Lee.
Christina and Lauren's obviously enthusiasm about writing this book, their process, and their fangirling over Deacon was so satisfying when I was just about to cry at the end of the book because it was over. It was so nice to get that extra little something at the end.
If you're interested in this book or even if you've read it already, I highly recommend the audiobook!
---
Audiobook Performance: 5 stars

I ADORED Deacon Lee. This as the first book I read that he narrated and I hope it won't be my last!
---
Butterfly Rating: 4 Stars
---
Re-read Worthiness: Yes!
---
Bookshelf Placement: Yes!
This cover is gorgeous
---
Book Boyfriend Rating: 5 stars

I adored both these boys ❤
---