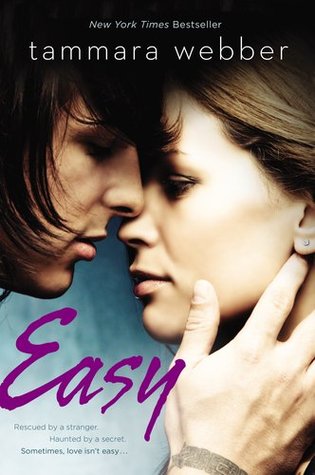 Overall Rating:
4 Stars
Title:
Easy
Author:
Tammara Webber
Series:
Contours of the Heart #1
Format:
Audiobook purchased from Audible
Synopsis:
Rescued by a stranger.
Haunted by a secret.
Sometimes, love isn't easy…
He watched her, but never knew her. Until thanks to a chance encounter, he became her savior…
The attraction between them was undeniable. Yet the past he'd worked so hard to overcome, and the future she'd put so much faith in, threatened to tear them apart.
Only together could they fight the pain and guilt, face the truth – and find the unexpected power of love.
A groundbreaking novel in the New Adult genre, Easy faces one girl's struggle to regain the trust she's lost, find the inner strength to fight back against an attacker, and accept the peace she finds in the arms of a secretive boy.
Review
Easy was one of those audiobooks I've had sitting in my Audible Library and kept avoiding. Maybe it's the cover… yeah, it's probably the cover. My being-in-love-with-emo-boys expired a good decade ago, so I've been a bit deterred.
Anyway, I'd cancelled my Audible membership in the hopes that I would catch up on all the audiobooks I've had piling up (for like 2 weeks because I realized that I have an addiction and, well, A for effort.)
This book was one that I was listening to so that I could get through all the unread audiobooks hiding in my library and I was pleasantly surprised.
It grabbed me from the very beginning and kept me interested throughout.
There was only one issue I had with this book (that I won't mention specifically because I don't want to give it away), but otherwise I really enjoyed it.
I think the touchy subject of sexual assault and rape in college was handled well for a New Adult novel and it is a topic that certainly needs to be discussed.
As for the characters, I really liked Jacqueline. She was just generic enough (not a bad thing) to be relatable and Lucas was just troubled, yet infatuated enough to appeal to me.
The minor characters we a bit stereotypical, but still entertaining and, in some cases, very likable.
---
Audiobook Performance: 3 stars

The performance wasn't memorable or too distracting. It wasn't my favorite performance, but it wasn't annoying either.
---
Butterfly Rating: 2 Stars

It may have been because I wasn't fully invested in the relationship (likely because of the secrets and no real resolution to them.)
---
Re-read Worthiness: Not likely
While I enjoyed this read, I don't see myself reading it again.
---
Bookshelf Placement: No
Having an audio copy is enough for me!
---
Book Boyfriend Rating: 4 stars

Secrets aside, I really liked him!
---