You guys… I'm going to see Panic at the Disco tonight!! Eeeek! I'm so excited. I've been a fan for 10+ years and this will be my first time seeing them live. I CANNOT WAIT!
In the meantime, let's take a look at the books I got this month!
---
Here are the books I hauled this month
Covers link to Goodreads.
Kindle Unlimited
Forever Right Now by Emma Scott

Darlene Montgomery has been to hell and back…more than once. After a stint in jail for drug possession, she is finally clean and ready to start over. Yet another failed relationship is just the motivation she needs to move from New York to San Francisco with the hopes of resurrecting her dance career and discovering that she is more than the sum of her rap sheet. As Darlene struggles in her new city, the last thing she wants is to become entangled with her handsome—but cranky—neighbor and his adorable little girl…

Sawyer Haas is weeks away from finishing law school, but exhaustion, dwindling finances, and the pressure to provide for himself and his daughter, Olivia, are wearing him down. A federal clerkship–a job he desperately needs–awaits him after graduation, but only if he passes the Bar Exam. Sawyer doesn't have the time or patience for the capricious—if beautiful—dancer who moves into the apartment above his. But Darlene's easy laugh and cheerful spirit seep into the cracks of his hardened heart, and slowly break down the walls he's resurrected to keep from being betrayed ever again.

When the parents of Olivia's absentee mother come to fight for custody, Sawyer could lose everything. To have any chance at happiness, he must trust Darlene, the woman who has somehow found her way past his brittle barbs, and Darlene must decide how much of her own bruised heart she is willing to give to Sawyer and Olivia, especially when the ghosts of her troubled past refuse to stay buried.
After reading the Full Tilt series, I NEEDED to get more Emma Scott books in my life!
The root of all madness is an unbearable truth…

At seventeen, Willow Holloway's life was torn apart. The happy, driven girl is gone, and she is left wracked by post-traumatic stress her body remembers even if she does not. When her father suddenly uproots the family from their posh penthouse in New York City to the tiny town of Harmony, Indiana, Willow becomes more untethered and lost under the weight of her secret. On a whim, she auditions for a part in the community theater's production of Hamlet and unexpectedly wins the role of Ophelia—the girl who is undone by madness, and her love of Hamlet…

Isaac Pearce is from the 'wrong side of the tracks.' The town bad boy. Girls pine for his attention and guys are in awe of him. That he's an acting prodigy only adds to his charisma. Isaac utterly disappears into his characters; the stage is the only place he feels safe from his own traumatic home life. He wants nothing more than to escape to Broadway or Hollywood and leave Harmony behind for good.

No one can play Hamlet but Isaac, and when the director pairs him with Willow in acting class, they clash again and again—neither willing to open their hearts to anyone. But clashing leads to breaking, breaking leads to the spilling of terrible secrets, and soon Isaac and Willow find Shakespeare's words mirroring their lives. When they are cruelly torn apart, neither know how this play will end—with madness and heartache? Or healing, love, and the discovery of who they are truly meant to be.
---
Audiobooks (Audible)
How Sweet It Is by Melissa Brayden

Some things are better than chocolate…

Molly O'Brien is a sweetheart. Her friends and neighbors all think so. While she enjoys her quiet life running the town bakeshop in Applewood, Illinois, she wonders if there could be more. After losing the love of her life four years prior in a plane crash, Molly thinks she's ready to navigate the dicey dating waters once again. However, you can't always pick who your heart latches on to. When Jordan Tuscana, the beautiful younger sister of her lost love, returns to town, Molly finds her interest piqued in a manner she wasn't prepared for.

As secrets are uncovered, Molly and Jordan must figure out how to navigate the difficult terrain of their multi-faceted relationship. Especially when something much deeper seems to be bubbling between them.
Diner waitress Allison Abraham had no idea her mundane life was about to dramatically change the day she serves a devastatingly handsome customer.

Allison is immediately captivated by the mysterious man who stared through her soul with his electric blue eyes. After he abruptly leaves the restaurant, she can't get him out of her head.

She has no idea that he had actually come on a mission to find her.

Cedric Callahan wasn't expecting to fall in love at first sight with the pretty waitress he'd set out to find. In fact, she was the last woman on Earth he should be having feelings for. But his selfish heart had other plans. Feeling compelled to know her before revealing himself, he makes her believe their meetings are coincidental.

After a passionate romance ignites, Cedric's lies and secrets are finally revealed, changing both of their lives forever.
Submission (Submission #1) by C.D. Reiss

Jonathan Drazen. Gorgeous. Charming. Smart. Rich.
All the ingredients for a few nights of mind-blowing pleasure are right there. He's made it perfectly clear he can't love me, and I'm not out to fall in love either.
But I can't stay away from him. He's got this bossy way about him in bed. The word "Sir," falls from my lips, and when he tells me to get on my knees…well, my knees have a mind of their own.
I got this. I can be his slave for a few nights and walk away unscathed.
We get in. Get it on. Get the hell out. Done.
He knows the line between love and lust. It's right between my legs.
Now, let's see if that line blurs for me.
Forbidden (Forbidden #1-3) by C.D. Reiss

Everything about Fiona is forbidden.

She's a party girl with dark desires.
She's beautiful, irresponsible, irresistible.

She's my patient.
I'm her therapist.

I'm past wanting her. Past possessing her. Past bedding her or protecting her.

I'm willing to be self-destructive, negligent, brave, audacious, and stronger than I ever believed possible.

She's blunt force trauma to the heart.
And she calls another man Master.
Beauty and the Mustache (Winston Brothers 0.5, Knitting in the City #4) by Penny Reid

There are three things you need to know about Ashley Winston: 1) She has six brothers and they all have beards, 2) She is a reader, and 3) She knows how to knit.

Former beauty queen, Ashley Winston's preferred coping strategy is escapism. She escaped her Tennessee small town, loathsome father, and six brothers eight years ago. Now she escapes life daily via her Amazon kindle one-click addiction. However, when a family tragedy forces her to return home, Ashley can't escape the notice of Drew Runous— local Game Warden, reclusive mountain man, bear wrestler, philosopher, and everyone's favorite guy. Drew's irksome philosophizing in particular makes Ashley want to run for the skyscrapers, especially since he can't seem to keep his exasperating opinions— or his soulful poetry, steadfast support, and delightful hands— to himself. Pretty soon the girl who wanted nothing more than the escape of the big city finds she's lost her heart in small town Tennessee.
---
Hard Copy
Once and for All by Sarah Dessen

As bubbly as champagne and delectable as wedding cake, Once and for All, Sarah Dessen's thirteenth novel, is set in the world of wedding planning, where crises are routine.

Louna, daughter of famed wedding planner Natalie Barrett, has seen every sort of wedding: on the beach, at historic mansions, in fancy hotels and clubs. Perhaps that's why she's cynical about happily-ever-after endings, especially since her own first love ended tragically. When Louna meets charming, happy-go-lucky serial dater Ambrose, she holds him at arm's length. But Ambrose isn't about to be discouraged, now that he's met the one girl he really wants.

Sarah Dessen's many, many fans will adore her latest, a richly satisfying, enormously entertaining story that has everything—humor, romance, and an ending both happy and imperfect, just like life itself.
My sister had two copies of this and gave one to me!
The Fortunes of Indigo Skye by Deb Caletti

I suddenly see where I'm standing, and that's at the edge of change – really, really big change.
Eighteen-year-old Indigo Skye feels like she has it all – a waitress job she loves, an adorable refrigerator-delivery-guy boyfriend, and a home life that's slightly crazed but rich in love. Until a mysterious man at the restaurant leaves her a 2.5 million-dollar tip, and her life as she knew it is transformed.

At first its amazing: a hot new car, enormous flat-screen TV, and presents for everyone she cares about. She laughs off the warnings that money changes people, that they come to rely on what they have instead of who they are. Because it won't happen…not to her. Or will it? What do you do when you can buy anything your heart desires — but what your heart desires can't be bought?

This is the story of a girl who gets rich, gets lost, and ultimately finds her way back – if not to where she started, then to where she can start again.
This was a find at my library bookstore!
Everneath (Everneath #1) by Brodi Ashton

A captivating story of love, loss, and immortality

Last spring, Nikki Beckett vanished, sucked into an underworld known as the Everneath, where immortals feed on the emotions of despairing humans. Now she's returned—to her old life, her family, her boyfriend—before she's banished back to the underworld . . . this time forever. She has six months before the Everneath comes to claim her, six months for good-byes she can't find the words for, six months to find redemption, if it exists.

Nikki longs to spend these months reconnecting with her boyfriend, Jack, the person most devastated by her disappearance—and the one person she loves more than anything. But there's a problem: Cole, the smoldering immortal who enticed her to the Everneath, has followed Nikki to the mortal world. And he'll do whatever it takes to bring her back, this time as his queen.
This series looks super interesting! All three books were at my library's bookstore.
Everbound (Everneath #2) by Brodi Ashton

Nikki Beckett could only watch as her boyfriend, Jack, sacrificed himself to save her, taking her place in the Tunnels of the Everneath for eternity — a debt that should've been hers. She's living a borrowed life, and she doesn't know what to do with the guilt. And every night Jack appears in her dreams, lost and confused and wasting away.

Desperate for answers, Nikki turns to Cole, the immortal bad boy who wants to make her his queen — and the one person least likely to help. But his heart has been touched by everything about Nikki, and he agrees to assist her in the only way he can: by taking her to the Everneath himself.

Nikki and Cole descend into the Everneath, only to discover that their journey will be more difficult than they'd anticipated — and more deadly. But Nikki vows to stop at nothing to save Jack — even if it means making an incredible sacrifice of her own.

In this enthralling sequel to Everneath, Brodi Ashton tests the bonds of destiny and explores the lengths we'll go to for the ones we love.
Evertrue (Everneath #3) by Brodi Ashton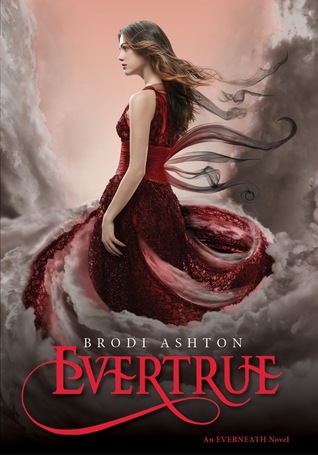 Now that Nikki has rescued Jack, all she wants is to be with him and graduate high school. But Cole tricked Nikki into feeding off him, and she's begun the process of turning into an Everliving herself… which means she must feed on a Forfeit soon — or die.

Terrified for her survival, Nikki and Jack begin a desperate attempt to reverse the process using any means possible. Even Cole, who they expected to fight them at every turn, has become an unlikely ally — but how long can it last? Nikki needs to feed on Cole to survive, Cole needs Nikki to gain the throne in the Everneath, Jack needs Nikki because she is everything to him — and together, they must travel back to the Underworld to undo Nikki's fate and make her mortal once more. But Cole isn't the only one with plans for Nikki: the Queen has not forgotten Nikki's treachery, and she wants her destroyed for good. Will Nikki be forced to spend eternity in the Underworld, or does she have what it takes to bring down the Everneath once and for all?

In this stunning conclusion to the Everneath trilogy, Brodi Ashton evokes the resiliency of the human spirit and the indomitable power of true love.
---
What books have you purchased this month?