In preparation for my Monthly TBR list in the beginning of the month I like to post a list of books that are on my TBR and get YOUR opinion on what I should read.
I chose one book from each of the following categories:
A book on my Kindle
A book from my bookshelf
A book in my Audible library
A book from my Goodreads shelf
So, let me know… What should I read next?
---
On my Kindle
Dead of Winter (Aspen Falls #1) by Melissa Pearl
She has to run.
She has to hide.
But is there any place he can't find her?

On the run from her drug-dealing ex, Rosie is forced to return to the one place she swore she'd never go back to—Aspen Falls. But it's a place to lay low until the nightmare blows over.

Or is it?

When she's pulled over by Officer Blaine Hartford, she comes face to face with her past. Will she have the courage to tell him everything or are her secrets too ugly to share?

If Blaine finds out what she's done, he could ruin her. Or could he be the one man to ultimately save her?

You'll love Dead of Winter for its spine-tingling romance, gripping tension and small town characters.

Get it now and start an exhilarating series of love outside the law today.
---
From my bookshelf
Ashes to Ashes (Ashes #1) by Melissa C. Walker
A timeless and romantic ghost story that will haunt readers long after the last page is turned.

When Callie's life is cut short by a tragic accident in her hometown of Charleston, South Carolina, her spirit travels to another dimension called the Prism. Here she meets a striking and mysterious ghost named Thatcher, who guides her as she learns how to bring peace to those she left behind. But Callie soon uncovers a dark secret about the spirit world: Some of the souls in it are angry, and they desperately want revenge. These souls are willing to do whatever it takes to stay on Earth, threatening the existence of everyone she ever cared about.
---
In my Audible Library
Hot Cop by Laurelin Paige, Sierra Simone
You have the right to remain sexy.

Anything you say can and will be used to get you in my bed.

You have the right to use my body to give yourself a delirious, life-changing orgasm.

If you have trouble… don't worry, I'm a bit of an expert in that department.

There's nothing 'thin' about my blue line, if you catch my drift, and trust me, I know how to put those handcuffs to good use.

***

Livia Ward wants a baby before she's thirty. And even though Officer Chase Kelly is exactly the kind of cocky jerk this librarian has sworn off, he is undeniably hot. Both of them think they can give each other what they want—a few nights of fun for Officer Kelly, a no-strings baby for Livia—but this hot cop is about to learn that sex, babies, and love don't always play by the rules.
---
Goodreads Shelf
Midnight Blue by L.J. Shen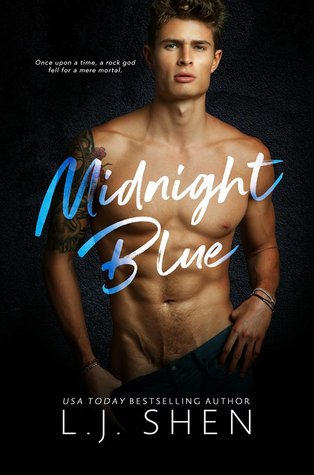 It should have been easy.
I needed the money. He needed a babysitter to keep him from snorting himself to death.
I was cherry-picked especially for him. Responsible. Optimistic. Warm. Innocent.
The worst part is that I should have known better.
Alex Winslow. British rock star. Serial heartbreaker. Casanova with whiskey eyes.
"Don't get near the devil in a leather jacket. He'll chew you up and spit you out."
Guess what? I didn't listen.
I signed the contract.
World tour. Three months. Four Continents. One hundred shows.
My name is Indigo Bellamy, and I sold my soul to a tattooed god.
Problem was, my soul wasn't enough for Alex Winslow. He ended up taking my body, too.
Then he took my heart.
Then he took my all.
---
Which book would you read next?