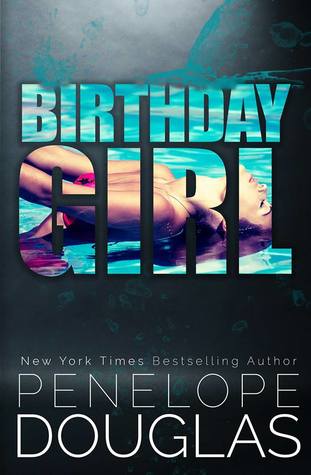 Overall Rating:
5 Stars
Title:
Birthday Girl
Author:
Penelope Douglas
Format:
eBook purchased from Amazon
Synopsis:
JORDAN
He took me in when I had nowhere else to go.
He doesn't use me, hurt me, or forget about me. He doesn't treat me like I'm nothing, take me for granted, or make me feel unsafe.
He remembers me, laughs with me, and looks at me. He listens to me, protects me, and sees me. I can feel his eyes on me over the breakfast table, and my heart pumps so hard when I hear him pull in the driveway after work.
I have to stop this. It can't happen.
My sister once told me there are no good men, and if you find one, he's probably unavailable.
Only Pike Lawson isn't the unavailable one.
I am.
PIKE
I took her in, because I thought I was helping.
She'd cook a few meals and clean up a little. It was an easy arrangement.
As the days go by, though, it's becoming anything but easy. I have to stop my mind from drifting to her and stop holding my breath every time I bump into her in the house. I can't touch her, and I shouldn't want to.
The more I find my path crossing hers, though, the more she's becoming a part of me.
But we're not free to give into this. She's nineteen, and I'm thirty-eight.
And her boyfriend's father.
Unfortunately, they both just moved into my house.
Review
I am living proof that book reviews have a huge impact on purchases.

This was the second book in a month that I've purchased based on reviews… and neither of the book reviews that inspired me to purchase the book were rave reviews.
In fact, one was a 1-star review and the other was a 3-star review.
Normally, a premise like this does not appeal to me in the slightest.
It actually kind of skeeves me out a little bit to think about a girl falling for her boyfriend's father, because even though he isn't old (39), the fact that he has a 19-year-old son typically would make me see him as much older than that.
However, this book has proven me wrong.
The chemistry between Jordan and Pike was instantaneous.
I fell head over heels in love with the idea of them together. Age didn't matter, the fact that she was initially dating his son didn't matter… I wanted them together just as much as they wanted to be together.
I really enjoyed being inside both of their heads, equally. Unlike some books that change POVs, I wasn't eagerly waiting to hear from either one. I was perfectly content to switch back and forth.
The slow burn was excruciating, but so very necessary. Actually, quite a few things in this book were excruciating, but necessary.
I kept waiting to be weirded out by this book, but though Pike wasn't immature at all and though Jordan wasn't overly mature — they both acted their age — it never felt wrong. It never felt anything but so, so right.
---
Butterfly Rating: 5 Stars

The butterflies this book gave me were off-the-charts! It was almost unbearable sometimes, but it is what makes books great to me.
---
Re-read Worthiness: Hell yes!
It absolutely slays me that this book is not on audio? Right now I have it in eBook and a hard copy, but I'm dying for the audio so that I can do a reread!
---
Bookshelf Placement: Abso-freaking-lutely
Already there, my friend!
---
Book Boyfriend Rating: 5 stars

Aside from having an amazing name, I absolutely love Pike. I loved his personality, I loved his flaws, and I really loved how he loved Jordan.
---