Review by Kayla, In Love & Words Teen Reader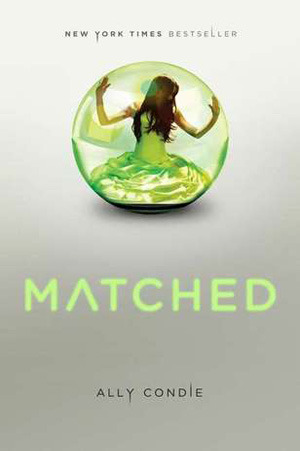 Overall Rating:
5 Stars
Title:
Matched
Author:
Ally Condie
Series:
Matched #1
Synopsis:
In the Society, officials decide. Who you love. Where you work. When you die.
Cassia has always trusted their choices. It's hardly any price to pay for a long life, the perfect job, the ideal mate. So when her best friend appears on the Matching screen, Cassia knows with complete certainty that he is the one…until she sees another face flash for an instant before the screen fades to black. Now Cassia is faced with impossible choices: between Xander and Ky, between the only life she's known and a path no one else has ever dared follow—between perfection and passion.
Review
For a while now, I've been looking forward to reading this book. Although at first, it was a little confusing, I finally understood what was happening and it was so intense I couldn't stop reading!

When I first read the description for this book, I knew that it was going to be a good one. At first, it took me a while to understand all of the different elements of the story and how everything works. After a few chapters, it all made sense and now I'm basically dying to read the next book.
I think this book was a really cool idea of what goes on in Cassia's town and all of the discoveries she makes. Some parts you may think are slow when you read this book but you will need all of the details in the end!
---
Butterfly Rating: 2 Stars

I really didn't get that many butterflies in this book.
---
Book Boyfriend Rating: 4 stars

There were two different main book boyfriends in this book and both of them were similar but so different at the same time. Both were amazing in different ways. Ky and Cassia's relationship was special because it was like their own secret but the relationship with Xander was pure and special because they are best friends and also go well together.
---
Age Recommendation: 12+
---
"Free" Reading Availability
✘ Kindle Unlimited
✘ Prime Reading
✘ Audible Romance Package
'