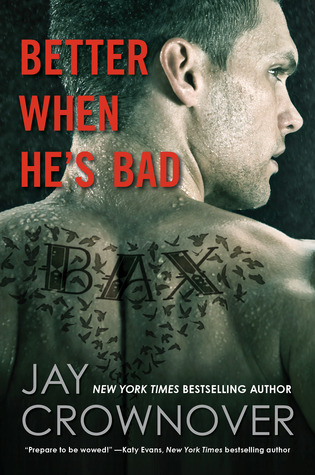 Overall Rating:
4 Stars
Title:
Better When He's Bad
Author:
Jay Crownover
Series:
Welcome to the Point #1
Format:
Audiobook purchased from Audible
Synopsis:
Welcome to the Point
There's a difference between a bad boy and a boy who's bad . . . meet Shane Baxter.
Sexy, dark, and dangerous, Bax isn't just from the wrong side of the tracks, he is the wrong side of the tracks. A criminal, a thug, and a brawler, he's the master of bad choices, until one such choice landed him in prison for five years. Now Bax is out and looking for answers, and he doesn't care what he has to do or who he has to hurt to get them. But there's a new player in the game, and she's much too innocent, much too soft…and standing directly in his way.
Dovie Pryce knows all about living a hard life and the tough choices that come with it. She's always tried to be good, tried to help others, and tried not to let the darkness pull her down. But the streets are fighting back, things have gone from bad to worse, and the only person who can help her is the scariest, sexiest, most complicated ex-con The Point has ever produced.
Bax terrifies her, but it doesn't take Dovie long to realize that some boys are just better when they're bad.
Review
It's been awhile since I've read a book by Jay Crownover and this book reminded me why I love her books so much.
JC, aside from being a hilarious and warm person, is such a talented writer… and she writes bad boys like no one else. The guys in The Marked Men series that I loved were a different kind of bad from Bax, though.
Bax is actually bad. As in criminal bad… not just tattooed and badass-looking like most of the Marked Men. Asa probably was the closest as far as criminal activity is concerned, however, he still had a certain softness to him.
Bax is dark and has a sharpness to him with seemingly no soft edges, yet JC made the love story between him and Dovie work. I felt sucked into their world and their struggles. I believed their stories and why they were the way they were. It made sense to me.
I think the thing I loved the most about the romance between Dovie and Bax is that Bax never acted out of character… even when he fell in love. I think a lot of "bad boy romance" novels suffer from characters that do a complete unbelievable 180 when they fall in love. They soften too much and suddenly become swooning puppy dogs.
This isn't the case with this romance. Bax loves Dovie as himself and it's still sweet without making your mouth ache.
I'm excited to read the rest of the series! Like The Marked Men series, I'm intrigued by the secondary characters that were introduced.
---
Audiobook Performance: 5 stars

Mia Barron and Leland King did such a fantastic job. I'd never heard of these two readers, but now that I have, I definitely want to hear more from them.
I think the MVP goes to Leland King, because damn, did he hit the bad boy voice nail on the head. At one point when I was listening to the story without headphones, my husband asked me later if the person reading was a serial killer. I was like, "Nope, but he is a criminal!"
---
Butterfly Rating: 3 Stars

Surprisingly enough I didn't get a ton of butterflies while reading this one. This is likely why this book was a 4 star read instead of a 5. However, I really enjoyed the characters and their story.
---
Re-read Worthiness: Maybe
We'll see how the rest of the series is!
---
Bookshelf Placement: Yes
It's likely. I want all the books I've read by JC on my shelves!
---
Book Boyfriend Rating: 2 stars

Bax is loyal and definitely has the ability to love deeply, however, I'm not into criminals. I'm not about that life!
---
"Free" Reading Availability
✘ Kindle Unlimited
✘ Prime Reading
✘ Audible Romance Package
---
'
'
'