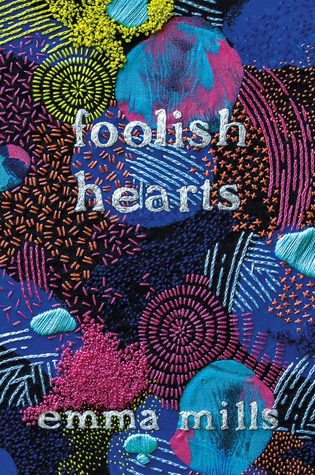 Overall Rating:
5 Stars
Title:
Foolish Hearts
Author:
Emma Mills
Format:
Hard copy purchased from Amazon
Synopsis:
A contemporary novel about a girl whose high school production of A Midsummer Night's Dream leads her to new friends—and maybe even new love.
The day of the last party of the summer, Claudia overhears a conversation she wasn't supposed to. Now on the wrong side of one of the meanest girls in school, Claudia doesn't know what to expect when the two are paired up to write a paper—let alone when they're both forced to try out for the school production of A Midsummer Night's Dream.
But mandatory participation has its upsides—namely, an unexpected friendship, a boy band obsession, and a guy with the best dimpled smile Claudia's ever seen. As Claudia's world starts to expand, she finds that maybe there are some things worth sticking her neck out for.
First of all… I need to thank Peachy over at Book Dragon Lair for introducing me to this book because… OMG I loved it SO MUCH!
The main thing that convinced me to read this book is because of how Peachy raved about Gideon: the adorable, hilarious, sweet, and charming book boyfriend in this book, but it is a testament to the strength of the characters that he didn't outshine any of the other secondary characters.
First of all, I freaking love Claudia, our first-person narrator. Her internal dialog and one-liners are so understated and endlessly entertaining. She has the sense of humor that goes (unfortunately) unnoticed to most unless they are playing close attention. She's the type of person that I love… the one that says the most brilliantly hilarious things under their breath without even realizing it.
I've noticed that the people who love her the most are the ones who learn to listen and really appreciate her personality.
I loved watching this happen. I loved watching Gideon and Iris, in their own ways, start to appreciate Claudia.
I also loved her relationship with her best friend – how comfortable they were together and how well Zoe understood her best friend. (Zoe was such a great character, but honestly, every character Claudia came in contact with was amazing — even when they were jerks.)
The relationship dynamics, both platonic and romantic, all around Claudia were so entertaining and heart-warming as well. I particularly loved Iris and Paige's story. (The flashback with the two of them and the headphones? So swoony.)
Anyway, this book was such a strong YA novel. I'm so glad I was introduced to it. I'm excited to read more books by Emma Mills (I love her sense of humor) and I'm excited for my niece, Kayla, to read it!
---
Butterfly Rating: 4 Stars

4 sweet, sweet butterflies.
---
Re-read Worthiness: Yes
I'm sure I'll dig into this one again. I wish it was on audio!
---
Bookshelf Placement: YES
This is top shelf material. The cover is gorgeous.
---
Book Boyfriend Rating: 5 stars
You guys… Gideon gives Levi (Fangirl) a run for his money. They are very similar characters and I love them both!
---
"Free" Reading Availability
✘ Kindle Unlimited
✘ Prime Reading
✘ Audible Romance Package
---