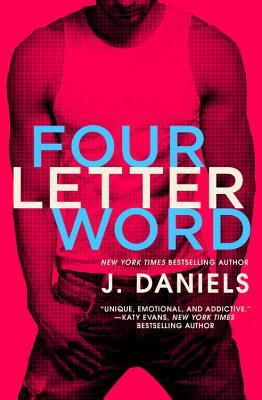 Overall Rating:
4 Stars
Title:
Four Letter Word
Author:
J. Daniels
Series:
Dirty Deeds Book 1
Format:
Audiobook Purchased from Audible
Synopsis:
Fate. Hate. Love. Lies.
Which four letter word will change their lives forever?
Sydney Paige was never so mortified to hear the words "wrong number" in her life. She meant to tell off the guy who broke her best friend's heart but unleashed her anger on a perfect stranger instead. And now her world is turned upside down by the captivating man who wants to keep her on the line.
Brian Savage is living a life he's quickly come to hate-until Sydney's wild rant has him hooked and hungry for more. Soon the sexy woman on the phone becomes the lover in his bed. But Brian has secrets, and the closer he lets Syd get, the harder it is to shield her from the devastating mistakes of his past . . .
Review
I find that less and less I pick up books based on synopsis alone – without recommendations from Goodreads friends and fellow book bloggers, but the premise of this book definitely caught my attention. Even though I hadn't heard any buzz about this book, when I saw it was on sale on Audible, I decided to give it a try. (It also helped that SebYo was one of the audiobook readers!)
Four Letter Word, much like Pucked by Helena Hunting, grabbed my attention from the beginning. There was no waiting for something to happen, the "something" happened right away.
Unliked Pucked (which kept my attention the entire hilarious ride), however, about halfway through, ironically when the couple finally meets in person, I began to lose interest.
It went from a lovely slow burn to that eye-roll-worthy instalove with gratuitous steamy scenes from the moment the couple met. I'm not sure how that is possible considering I typically love those much-anticipated moments in slow burns, but this was a little over-the-top for my taste.
However, the story definitely redeemed itself toward the end.
As for the characters, I really liked Brian and his best friend Jamie, as well as Sydney's best friend, but I felt Sydney's character (oddly enough since she is the main character) wasn't very well developed. It seemed like how the author described the character versus how the character "showed" her personality were very different.
She's described as wild and strong (Brian even nicknames her "Wild") yet, to me, she came off kind of whiny and a little… I don't know… boring, maybe? But definitely not wild.
Another thing that kind of drove me crazy, Sydney kept calling Brian her "boy" and it was super weird. It wasn't just in conversation, during her thought processes, she'd refer to him as her boy. I don't know, I'm not a big fan of pet names to begin with, but calling a grown man a boy is a little off-putting to me. (Ironically enough, when a guy calls a woman his "girl," it doesn't bother me.)
Anyway, overall I'm glad I found this one. Despite the little things that I didn't love along the way.
I'm thinking I'll very likely read the rest of the books in the series because I was loving the side relationships happening in this book!
---
Audiobook Performance: 5 Stars

I mean… It's SebYo. (To those who aren't audiobook whores like me, SebYo is Sebastian York. Much like Jacob Morgan/Zachary Webber, he has quite the following because… sexy voice.) I love SebYo and he is partially the reason why I was sold on this audiobook. Kate Russell also did a great job!
Butterfly Rating: 4 Stars

I definitely had more butterflies in the beginning of the book, but there were still plenty of butterfly-worthy moments!
Re-read Worthiness: No
I don't see myself re-reading this one unless the rest of the series blows my mind.
Bookshelf Placement: No
Again, unless I love the rest of the series and need to get them all, I likely won't buy the hard copy.
Book Boyfriend Rating: 3 stars

I definitely liked Brian, don't get me wrong, but he isn't really my type. The whole lying thing (and not immediately apologizing for it, but instead trying to justify it) is a big no-no for me.
"Free" Reading Availability
✘ Kindle Unlimited
✘ Prime Reading
✘ Audible Romance Package
(As of 2.25.19)