In the beginning of the month, I like to make a list of the books I'm hoping to read for the month. In preparation for that, at the end of each month, I like to post a list of books that are on my TBR and get YOUR opinion on what I should read next month.
'
I chose one book from each of the following categories:
A book on my Kindle
A book from my bookshelf
A book in my Audible library
A book from my Goodreads shelf
A book from my TBR ASAP shelf
 
'
So, let me know… What should I read next?
'
5 Books from the To Be Read List
 
'
On my Kindle
Imperfect Chemistry (Imperfect #1) by Mary Frame
Lucy London puts the word genius to shame. Having obtained her PhD in microbiology by the age of twenty, she's amassed a wealth of knowledge, but one subject still eludes her—people. The pendulum of passions experienced by those around her confuses and intrigues her, so when she's offered a grant to study emotion as a pathogen, she jumps on the opportunity.

Enter Jensen Walker, Lucy's neighbor and the one person she finds appealing. Jensen's life is the stuff of campus legend, messy, emotional, and complicated. Basically, the perfect starting point for Lucy's study. When her tenaciousness wears him down and he consents to help her, sparks fly. To her surprise, Lucy finds herself battling with her own emotions, as foreign as they are intense. With the clock ticking on her deadline, Lucy must decide what's more important: analyzing her passions…or giving in to them?
'
On my Bookshelf
Covet (Fallen Angels #1) by J.R. Ward
Seven deadly sins. Seven souls to save. This is the first battle between a savior who doesn't believe and a demon with nothing to lose!

Redemption isn't a word Jim Heron knows much about—his specialty is revenge, and to him, sin is all relative. But everything changes when he becomes a fallen angel and is charged with saving the souls of seven people from the seven deadly sins. And failure is not an option.

Vin DiPietro long ago sold his soul to his business, and he's good with that-until fate intervenes in the form of a tough-talking, Harley-riding, self-professed savior. And then he meets a woman who will make him question his destiny, his sanity, and his heart—and he has to work with a fallen angel to win her over and redeem his own soul.
'
In my Audible Library
Easy (Contours of the Heart #1) by Tammara Webber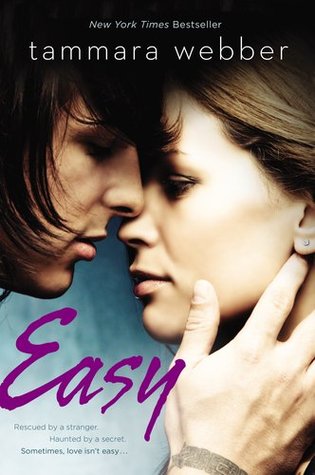 Rescued by a stranger.
Haunted by a secret.
Sometimes, love isn't easy…

He watched her, but never knew her. Until thanks to a chance encounter, he became her savior…

The attraction between them was undeniable. Yet the past he'd worked so hard to overcome, and the future she'd put so much faith in, threatened to tear them apart.

Only together could they fight the pain and guilt, face the truth – and find the unexpected power of love.

A groundbreaking novel in the New Adult genre, Easy faces one girl's struggle to regain the trust she's lost, find the inner strength to fight back against an attacker, and accept the peace she finds in the arms of a secretive boy.
'
On my Goodreads Shelf
Can You Keep a Secret? by Sophie Kinsella
Meet Emma Corrigan, a young woman with a huge heart, an irrepressible spirit, and a few little secrets: Secrets from her boyfriend: I've always thought Connor looks a bit like Ken. As in Barbie and Ken. Secrets from her mother: I lost my virginity in the spare bedroom with Danny Nussbaum while Mum and Dad were downstairs watching Ben-Hur. Secrets she wouldn't share with anyone in the world: I have no idea what NATO stands for. Or even what it is. Until she spills them all to a handsome stranger on a plane. At least, she thought he was a stranger.…Until Emma comes face-to-face with Jack Harper, the company's elusive CEO, a man who knows every single humiliating detail about her…
'
On my TBR ASAP Shelf
Love and First Sight by Josh Sundquist
On his first day at a new school, blind sixteen-year-old Will Porter accidentally groped a girl on the stairs, sat on another student in the cafeteria, and somehow drove a classmate to tears. High school can only go up from here, right?

As Will starts to find his footing, he develops a crush on a sweet but shy girl named Cecily. And despite his fear that having a girlfriend will make him inherently dependent on someone sighted, the two of them grow closer and closer. Then an unprecedented opportunity arises: an experimental surgery that could give Will eyesight for the first time in his life. But learning to see is more difficult than Will ever imagined, and he soon discovers that the sighted world has been keeping secrets. It turns out Cecily doesn't meet traditional definitions of beauty—in fact, everything he'd heard about her appearance was a lie engineered by their so-called friends to get the two of them together. Does it matter what Cecily looks like? No, not really. But then why does Will feel so betrayed?
'
Do you recommend any of these books? Are any of these on your TBR?
'
'
'