Overall Rating: 4 Stars
Strange the Dreamer (Strange the Dreamer #1) by Laini Taylor
[Audiobook Purchased from Audible]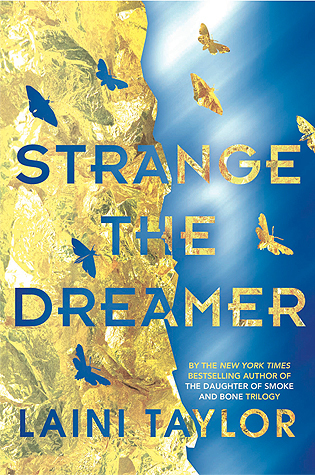 The dream chooses the dreamer, not the other way around—and Lazlo Strange, war orphan and junior librarian, has always feared that his dream chose poorly. Since he was five years old he's been obsessed with the mythic lost city of Weep, but it would take someone bolder than he to cross half the world in search of it. Then a stunning opportunity presents itself, in the person of a hero called the Godslayer and a band of legendary warriors, and he has to seize his chance or lose his dream forever.

What happened in Weep two hundred years ago to cut it off from the rest of the world? What exactly did the Godslayer slay that went by the name of god? And what is the mysterious problem he now seeks help in solving?

The answers await in Weep, but so do more mysteries—including the blue-skinned goddess who appears in Lazlo's dreams. How did he dream her before he knew she existed? And if all the gods are dead, why does she seem so real?
Review
Though this book took a little while for me to get in to, once I finally got over the hump, I was thrown into another one of Laini Taylor's beautiful fantasies and loving every second of it.
Right from the beginning, Lazlo quickly became one of my favorite characters. I loved that he lived in a world of fantasy and dreams and I love where that "fault" ultimately led him.
More importantly, I loved Lazlo and Sarai so freaking much. Talk about an amazing fantasy meetcute!
Anyway, I think my favorite part about this novel aside from the premise and execution, was absolutely Laini's writing. Her descriptions turn complex emotions into beautiful simplicity in a way very few authors are able to do.
There is a quote that I've always loved by Einstein in which he says, "If you cannot explain it simply, you do not understand it well enough."
Laini must have the most vivid imagination to be able to craft a sentence of description out of something that would take other authors paragraphs.
Audiobook Performance: 5 Stars

Steve West is easily one of my favorite audiobook readers. His voice is swoony. It definitely is the type of voice that resonates in your bones.
Butterfly Rating: 3 Stars

Not too many butterflies in this one, but the romance was very beautiful.
Re-read Worthiness: Maybe
We'll see how the next book goes!
Bookshelf Placement: Yes
Book Boyfriend Rating: 5 stars

Lazlo is one of my new favorite book boyfriends for sure!
"Free" Reading Availability
✘ Kindle Unlimited
✘ Prime Reading
✘ Audible Romance Package
(As of 2.17.18)