Overall Rating: 3 Stars
Lucky in Love by Kasie West
[Audiobook Purchased from Audible]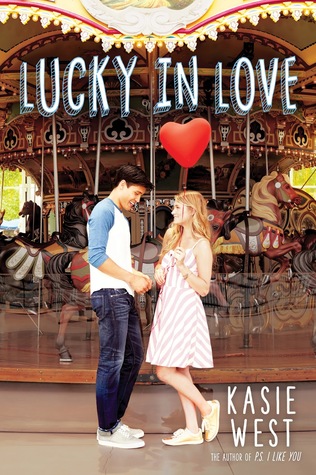 Maddie's not impulsive. She's all about hard work and planning ahead. But one night, on a whim, she buys a lottery ticket. And then, to her astonishment—

She wins!

In a flash, Maddie's life is unrecognizable. No more stressing about college scholarships. Suddenly, she's talking about renting a yacht. And being in the spotlight at school is fun…until rumors start flying, and random people ask her for loans. Now Maddie isn't sure who she can trust.

Except for Seth Nguyen, her funny, charming coworker at the local zoo. Seth doesn't seem aware of Maddie's big news. And, for some reason, she doesn't want to tell him. But what will happen if he learns her secret?
Review
Lucky in Love was a cute YA romance novel that I had pretty high hopes for since I loved By Your Side from the same author, however, I couldn't get past the fact that I'm a crotchety old woman.
To elaborate, I'm currently 32 years old and I was getting anxiety reading this book about a naive 18 year old who wins the lottery. As I mentioned before, I couldn't get past the part of me who wanted to wave my cane at that darn youngin' for being so gullible and NOT SPEAKING TO A FINANCIAL ADVISOR immediately. Also, the mom in me was all, "WHY AREN'T YOUR PARENTS GIVING YOU BETTER DIRECTION?!" Also, she won 30 million dollars and only gave her parents 1 million of it? I mean… For all the blood, sweat, tears, and MONEY parents put into raising a kid, shouldn't they get a bit more?
YA books don't usually make me feel super old, but this book did. I had a really hard time relating to this character and not wanting to shake her because she just kept making dumb decision after dumb decision.
All that being said… Kasie West writes absolutely adorable romances with very well-rounded characters. The fact that Maddie was so naive, while frustrating to me, is still worth a ton of Kudos because it was believable. She was a very real character. All the characters, even the inevitable YA Popular Girl was well-rounded. One of my YA peeves is when the popular girl is completely one-dimensional, and I was happy to see that it wasn't the case in this novel.
I am extremely interested to see what my Teen Reader, Kayla, thinks about this book. I wonder if she will find the main character's choices super frustrating or if she will find her very relatable.
Audiobook Performance: 3 Stars

I didn't love this narrator. Her voice was a little annoying at times, but not enough to make me stop listening. I do wish they would've stuck with Caitlin Kelly who narrated By Your Side because she has the perfect voice for these types of novels.
Butterfly Rating: 2 Stars

2 cute butterflies swirling around.
Re-read Worthiness: No
Bookshelf Placement: Maybe
We'll see how I like the rest of Kasie West's books. If I like them enough, I'll probably want to display all of them, even the ones I didn't love.
Book Boyfriend Rating: 4 stars

Yay for an Asian book boyfriend! And he was super duper adorbs and perfect for Maddie.
"Free" Reading Availability
✘ Kindle Unlimited
✘ Prime Reading
✓ Audible Romance Package
(As of 2.1.18)