Another month checked off of the 2018 calendar!
I'm headed over to my Goodreads bookshelf to review the books I read this past month and share with you my favorites!
Since I don't typically post my reviews immediately after I read a book (though I have been writing them immediately after reading), you won't see my full reviews for these books until later this month.
I read five books this month and of those five, three of them became favorites! I'd say that's a pretty good reading month!
Favorite Books I Read in February 2018
From Lukov with Love by Mariana Zapata
If someone were to ask Jasmine Santos to describe the last few years of her life with a single word, it would definitely be a four-letter one.

After seventeen years—and countless broken bones and broken promises—she knows her window to compete in figure skating is coming to a close.

But when the offer of a lifetime comes in from an arrogant idiot she's spent the last decade dreaming about pushing in the way of a moving bus, Jasmine might have to reconsider everything.

Including Ivan Lukov.
Oh, Mariana Zapata, you are the freaking best. I am already trying to restrain myself from reading this one again. I'm attempting to wait for the audiobook!
Strange the Dreamer (Strange the Dreamer #1) by Laini Taylor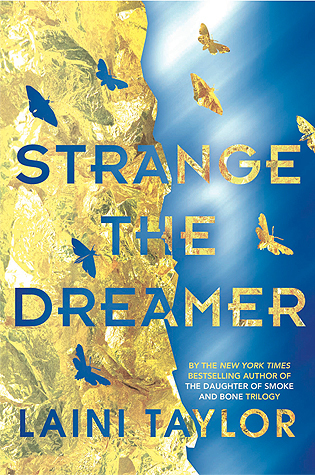 The dream chooses the dreamer, not the other way around—and Lazlo Strange, war orphan and junior librarian, has always feared that his dream chose poorly. Since he was five years old he's been obsessed with the mythic lost city of Weep, but it would take someone bolder than he to cross half the world in search of it. Then a stunning opportunity presents itself, in the person of a hero called the Godslayer and a band of legendary warriors, and he has to seize his chance or lose his dream forever.

What happened in Weep two hundred years ago to cut it off from the rest of the world? What exactly did the Godslayer slay that went by the name of god? And what is the mysterious problem he now seeks help in solving?

The answers await in Weep, but so do more mysteries—including the blue-skinned goddess who appears in Lazlo's dreams. How did he dream her before he knew she existed? And if all the gods are dead, why does she seem so real?
Laini Taylor has such a beautiful way with words and storytelling. I definitely fell in love with this book.
Until It Fades by K.A. Tucker
Twenty-four-year-old truck stop waitress and single mother Catherine Wright has simple goals: to give her five-year-old daughter a happy life and to never again be the talk of the town in Balsam, Pennsylvania: population two thousand outside of tourist season.

And then one foggy night, on a lonely road back from another failed attempt at a relationship, Catherine saves a man's life. It isn't until after the police have arrived that Catherine realizes exactly who it is she has saved: Brett Madden, hockey icon and media darling.

Catherine has already had her fifteen minutes of fame and the last thing she wants is to have her past dragged back into the spotlight, only this time on a national stage. So she hides her identity. It works.

For a time.

But when she finds the man she saved standing on her doorstep, desperate to thank her, all that changes. What begins as an immediate friendship quickly turns into something neither of them expected. Something that Catherine isn't sure she can handle; something that Catherine is afraid to trust.

Because how long can an extraordinary man like Brett be interested in an ordinary woman like Catherine…before the spark fades?
My sister told me about this book months ago and I'm kicking myself for waiting this long to read it! If I had to pick, this book would be my #1 favorite read of the month.
What were some of your favorite reads of February? Have you read any of these books?