This is a very special book review brought to you both by myself and my Teen Reader/Niece Kayla!
The two of us recently read Caraval and we thought we'd give podcasting a try!
We sat down and recorded our discussion and duel reviews for this book, so if you're up for it, take a listen!
Please note: There are definitely spoilers in the podcast review!
Otherwise, my written review is below.
Overall Rating: 5 Stars
Caraval (Caraval #1) by Stephanie Garber
[Hard Cover Purchased from Local Library Bookstore]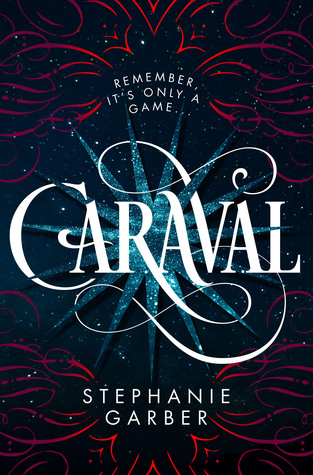 Scarlett Dragna has never left the tiny island where she and her sister, Tella, live with their powerful, and cruel, father. Now Scarlett's father has arranged a marriage for her, and Scarlett thinks her dreams of seeing Caraval—the faraway, once-a-year performance where the audience participates in the show—are over.

But this year, Scarlett's long-dreamt-of invitation finally arrives. With the help of a mysterious sailor, Tella whisks Scarlett away to the show. Only, as soon as they arrive, Tella is kidnapped by Caraval's mastermind organizer, Legend. It turns out that this season's Caraval revolves around Tella, and whoever finds her first is the winner.

Scarlett has been told that everything that happens during Caraval is only an elaborate performance. Nevertheless she becomes enmeshed in a game of love, heartbreak, and magic. And whether Caraval is real or not, Scarlett must find Tella before the five nights of the game are over or a dangerous domino effect of consequences will be set off, and her beloved sister will disappear forever.

Welcome, welcome to Caraval…beware of getting swept too far away.
Review
"Beware of getting swept too far away," the synopsis warns. Well… I couldn't heed that advice. I most certainly got swept away with this book.
I'd forgotten how magical fantasy novels… particularly YA Fantasy novels… could be. I've been really into contemporary romance lately and I was almost worried that I would stay in that preference forever, but after reading Tower of Dawn, I decided to hop over to Caraval, having whet my YA Fantasy appetite, and I couldn't think of a better book to dive headfirst into.
Honestly, I wish I could think of a better word for magical, but truly, that's what this was for me. I loved the relationship between the sisters. Being very close to my two sisters, I really connect to those relationships between siblings, and even though their time together is limited in this book, the connection between those two characters was so strong that I felt it immediately.
I'm not sure if it is because I'm such a romance novel wh*re or what, but seriously, you guys, I fell in love with like 5 of the characters and I'm pretty sure that was not the intention of the author.
And the ending… that little taste of what is to come… I am salivating for more.
Butterfly Rating: 5 Stars

I feel like Fantasy Novel Butterflies are entirely different than contemporary romance novel butterflies… they're a little more ethereal and somewhat more intense. Though, to me, the romance wasn't super prevalent in this novel, it was no less intense.
Re-read Worthiness: Yes
I have this on audio, too, and plan on re-reading once I catch up on my current reads!
Bookshelf Placement: Yes
It is front and center!
Book Boyfriend Rating: 5 stars

Love, love, love him!
"Free" Reading Availability
✘ Kindle Unlimited
✘ Prime Reading
✘ Audible Romance Package
(As of 01.30.18)
Let me know if you want more podcasts in the comments!