Overall Rating: 5 Stars
To All the Boys I've Loved Before (To All the Boys I've Loved Before, #1) by Jenny Han
[Audiobook Purchased from Audible]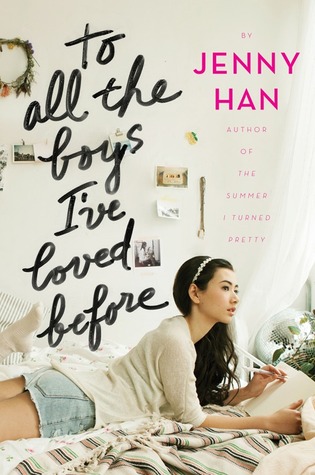 What if all the crushes you ever had found out how you felt about them… all at once?

Sixteen-year-old Lara Jean Song keeps her love letters in a hatbox her mother gave her. They aren't love letters that anyone else wrote for her; these are ones she's written. One for every boy she's ever loved—five in all. When she writes, she pours out her heart and soul and says all the things she would never say in real life, because her letters are for her eyes only. Until the day her secret letters are mailed, and suddenly, Lara Jean's love life goes from imaginary to out of control.
Review
This was an adorable YA Romance with such a great premise. To All the Boys I've Loved Before was an absolute pleasure to read.
Honestly, I can't wait for Kayla, my In Love & Words Teen Reader, to get her hands on this one. She's going to adore it to pieces just like I did.
I always forget how much I love YA novels and then books like this one come along and remind me that I need to read more of them.
Despite being decades older than Lara Jean, I still was able to commiserate and relate with her. Just like her, I'm half Asian and I loved this little tidbit about her. It's rare to see in main characters.
I love, love, love the idea of writing letters to loves lost and I adored that Lara Jean did this as a way to let go of crushes. Granted, it would not be fun if all of those loves received those letters, as hers did, but it sure did make for an interesting story!
I also have to mention how well done the relationship between the sisters was. As one of three sisters in my family, this was another thing I related to. Jenny Han did a great job of creating personalities that certainly fit oldest, middle, and youngest sisters. (I'm the youngest in my family.)
Also… I cannot freaking wait for the movie! Moreover, I can't wait to see who they cast!
Audiobook Performance: 5 Stars

Laura Knight Keating did a fantastic job narrating this book. I 100% felt like it was Lara Jean telling her story to me.
Butterfly Rating: 4 Stars

Lots of YA butterflies in this one!
Re-read Worthiness: Yes
I'm sure after or right before the movie comes out, I'll have a reread sesh!
Bookshelf Placement: Yes
These covers are GORGEOUS.
Book Boyfriend Rating: 5 stars

In fact, I loved pretty much all of Lara Jean's crushes and how different their reactions were.
"Free" Reading Availability
✘ Kindle Unlimited
✘ Prime Reading
✔ Audible Romance Package
(As of 01.31.18)