How in the world is it February already? SERIOUSLY.
Anyway, I almost wasn't going to do the first part of this blog post in which I go back and see how I did on finishing the books on last month's Reading List, but I've decided not to have shame in my game.
Nope.
I will, instead, accept that I am a failure. (She says before she even looks back on the list she made last month).
Alright, let's see how she did, folks! (/end writing in third person. Sorry.)
January Reading List Wrap-up
Titles link to Goodreads.
✔Reclamation (The Club Trilogy, Book 2) by Lauren Rowe
✘The Redemption (The Club Trilogy, Book 3) by Lauren Rowe
✔Hooking Up by Helena Hunting
✔Porn Star (P*rn Star #1) by Laurelin Paige and Sierra Simone
✘All I Want for Christmas (The McKinnon Brothers Book 1) by Jennifer Gracen (I've been reading this book since before Xmas. Oy.)
✘Beginner's Guide: Love and Other Chemical Reactions (Talking Nerdy #1) by Six de los Reyes
✘Hopeless (Hopeless #1) by Colleen Hoover
✘Co-Wrecker by Meghan Quinn (DNF. Womp.)
✘Lover by Marni Mann and Gia Riley
✘The Moon & More by Sarah Dessen
Next are the books I did read that weren't on the list above BECAUSE I CANNOT BE TAMED!
Or because I forgot to go back and look at the list to see what I should read next and instead went with my instincts. Whichever.
(Reviews coming soon. My review schedule is cray-cray)
Other Books I Read in January
Titles link to Goodreads.
Caraval by Stephanie Garber
Clipped Wings by Helena Hunting
Tower of Dawn by Sarah J. Maas
By Your Side by Kasie West
And, now, the main event…
February Reading List
These are all books that I own and need to read!
Audio
Dreams of Gods and Monsters by Laini Taylor
Since I'm in the Fantasy mood right now, I figure it's pretty safe to throw this on my TBR list for this month. It's the last book in the series and I really have loved the other two so far.
Goodreads | Amazon
Strange the Dreamer by Laini Taylor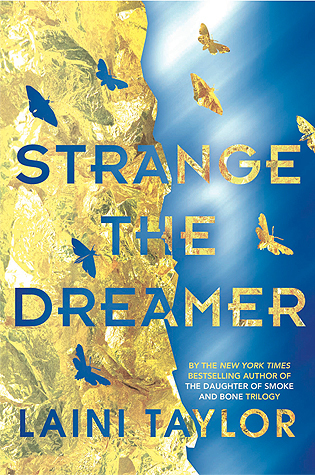 I've heard such great things about this book and, like I mentioned above, I love the Smoke and Bone series, so I figure I'll keep on going while I'm on the Fantasy roll!
Goodreads | Amazon
Six of Crows (Six of Crows #1) by Leigh Bardugo

This is another series that has been on my radar for awhile, and actually, this book has been sitting in my Audible library for longer than I'd like to admit. I think it's within the theme I've started for February so far with audiobooks!
Goodreads | Amazon
Kindle
Until It Fades by K.A. Tucker

This book was recommended to me by my sister awhile ago. It sounded really interesting, so I can't wait to read it!
Goodreads | Amazon
Hard Copy
A Bargain in Silver (Solis Invicti #1) by Josie Jaffrey

This is a Reader's Copy that I received in the mail recently. My first hard copy of one! I've already started reading this one and I'm enjoying it so far!
Goodreads | Amazon
Passenger and Wayfarer (The Passenger Series) by Alexandra Bracken
I bought these two books from the Books-a-Million sale and was so excited to have found them since I've been eyeing this series for a long time, now. The covers are gorgeous and look lovely sitting on my bookshelf.
Goodreads
|
Amazon
Ok, your turn! What are you reading this month? What did you read last month?