You guys. I'm already 6 books behind in my Goodreads Challenge.
Womp, womp.
It's only January and I think I'm going to knock it back down to 125 instead of 150.
Worst. Resolution. Holder. Ever.
Anyway, I read 6 books this month and I'm going to share with you my favorites!
My full reviews for these books will be posted soon!
Favorite Books I Read in January 2018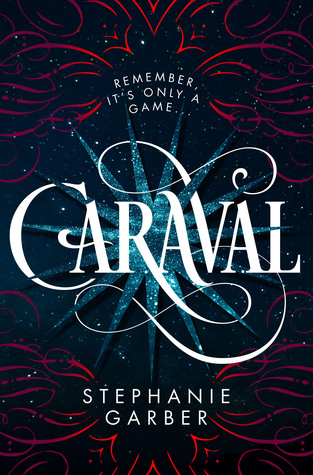 Caraval by Stephanie Garber
Scarlett Dragna has never left the tiny island where she and her sister, Tella, live with their powerful, and cruel, father. Now Scarlett's father has arranged a marriage for her, and Scarlett thinks her dreams of seeing Caraval—the faraway, once-a-year performance where the audience participates in the show—are over.

But this year, Scarlett's long-dreamt-of invitation finally arrives. With the help of a mysterious sailor, Tella whisks Scarlett away to the show. Only, as soon as they arrive, Tella is kidnapped by Caraval's mastermind organizer, Legend. It turns out that this season's Caraval revolves around Tella, and whoever finds her first is the winner.

Scarlett has been told that everything that happens during Caraval is only an elaborate performance. Nevertheless she becomes enmeshed in a game of love, heartbreak, and magic. And whether Caraval is real or not, Scarlett must find Tella before the five nights of the game are over or a dangerous domino effect of consequences will be set off, and her beloved sister will disappear forever.
This. Book. Was. Magical. I've been off the bandwagon of Fantasy for awhile now, but after reading Tower of Dawn, I felt like I could dip my toe in again, and after spotting this beauty at my local library bookstore, I decided this would be the perfect book to dive into. And it was. My neice and I are planning on doing a special co-review of this novel once she reads it!
By Your Side by Kasie West
When Autumn Collins finds herself accidentally locked in the library for an entire weekend, she doesn't think things could get any worse. But that's before she realizes that Dax Miller is locked in with her. Autumn doesn't know much about Dax except that he's trouble. Between the rumors about the fight he was in (and that brief stint in juvie that followed it) and his reputation as a loner, he's not exactly the ideal person to be stuck with. Still, she just keeps reminding herself that it is only a matter of time before Jeff, her almost-boyfriend, realizes he left her in the library and comes to rescue her.

Only he doesn't come. No one does.

Instead, it becomes clear that Autumn is going to have to spend the next couple of days living off vending-machine food and making conversation with a boy who clearly wants nothing to do with her. Except there is more to Dax than meets the eye. As he and Autumn first grudgingly, and then not so grudgingly, open up to each other, Autumn is struck by their surprising connection. But can their feelings for each other survive once the weekend is over and Autumn's old life, and old love interest, threaten to pull her from Dax's side?
I loved this book and couldn't wait to share it with Kayla – my 14yo niece and co-blogger here in In Love and Words. I hadn't read a YA Contemporary romance in a while, but this one definitely pulled me in and reminded me of all the things I love about that genre.
Porn Star by Laurelin Paige and Sierra Simone
Maybe you pretend you don't. Maybe you clear your browser history religiously. Maybe you pretend to be aghast whenever someone even mentions the word porn in your presence.

But the truth is that you do know me.

Everybody knows Logan O'Toole, world famous porn star.

Except then Devi Dare pops into my world, and pretty soon I'm doing things that aren't like me–like texting her with flirty banter and creating an entire web porn series just so I can get to star in her bed. Again. And again.

With Devi, my entire universe shifts, and the more time I spend with her, the more I realize that Logan O'Toole isn't the guy I thought he was.

So maybe I'm not the guy you thought I was either.
So far, in my book, Sierra Simone can do no wrong. When I saw that she wrote a book about porn stars, I knew that I wouldn't be let down. And I certainly wasn't!
It was REALLY hard to pick favorites from the books I read this month because I read so many good ones. I was tempted to list them all, but that would be cheating.
What were some of your favorite reads of January? Have you read any of these books?