I would like to preface this post by saying that the books that get put into my DNF (Did Not Finish) pile are not always going to be books I disliked.
A lot of times, for me anyway, reading a book and enjoying it has a lot to do with timing and what I'm in the mood to read. Sometimes I'm just not feeling a fantasy book, so if I find I am struggling to get through a book, I'll put it down and pick it back up again when I'm more in the mood.
Other times, I just can't stand the book and refuse to spend any more precious reading time on it when I have so many books on my TBR calling to me.
It can go either way. LOL!
Typically, I like to give a book at least a few chapters or around 20% at minimum before I give up completely.
Anywho, here are the books I didn't finish in the months of December and January.
The Assassin's Blade (Throne of Glass, #0.1-0.5) by Sarah J Maas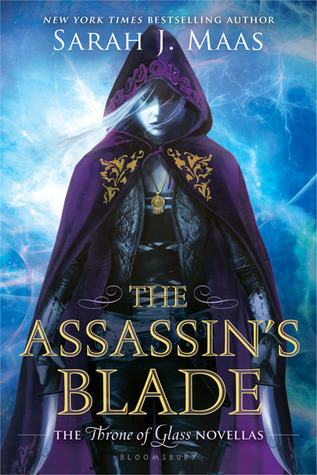 Quick overview:
This is a prequel to SJM's Throne of glass series which tells the story of Aelin's past.
Format: Audiobook
Why I didn't finish:
Every single book in this series has always started off slow for me. It always takes me awhile to get into it and I swear, if I hadn't read SJM's A Court of Thorns and Roses series and died from loving it so hard, I probably wouldn't have given this series a chance at all. But I trust SJM to pull through for me eventually. For some reason, though, this book seemed to be taking a lot longer for me to get through.
Will I try again?
I just finished Tower of Dawn and there are references to things that happen in this book, so now I'm feeling motivated to read it again!
Hail Mary by by Nicola Rendell
Quick Overview:
Mary is a literal kickass boxer who knocks out football star, Jimmy, and they instantly fall in love and both think every part of one another's anatomy is sexy.
Format: Audiobook
Why I didn't finish:
There were two huge pet peeves happening in this one for me: an instalove I wasn't invested in and inner monologues that were overwrought with how hot and sexy the other person was. I literally found myself yelling, "OK! I GET IT! HE'S HOT! CAN WE MOVE ON?"
Legit, this is my update on Goodreads at 10%:
Omg. Ok, I get it. The main characters are sexy. Can we not label every single body part some variation of the word throughout the entire book? Literally… thumbs, throats, eyelashes…
I ended up giving up at about 20% because I just couldn't anymore. I was very sad about it since it had such a great premise, but I couldn't connect to either of the characters and was just getting annoyed by everything.
Will I try again?
No, this one is firmly in the DNF pile, unfortunately. I've read so many great sports romances (Please see Pucked and The Wall of Winnipeg and Me) and a few instalove romances done right (Please see: Captain and Ball Peen Hammer), this just wasn't one of them for me.
Co-Wrecker by Meghan Quinn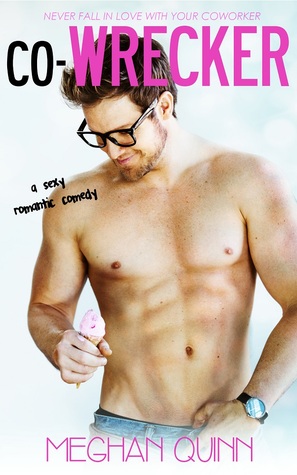 Quick Overview:
Andrew is a nerdy, yet super charismatic and hot guy who lands a job at an ice cream parlor where he meets the girl who is forced to train him, Sadie, thus beginning a cat and mouse chase in which Andrew is a mouse trying to chase the bitchy cat, Sadie.
Format: Paperback
Why I didn't finish:
I just couldn't get past Sadie. Here Andrew is, super sweet, charming, funny, hot, and completely infatuated with a girl for no real reason considering how mean she is to him.
Granted, I only made it through about 20% of the book, so I'm sure she redeems herself at some point, but I just wasn't on board with the romance between these two.
I felt like Andrew's character was a little too perfect. I guess I was kind of hoping he'd be a bit more dorky. Like, legit dorky, not just smart, but a little socially awkward, too. Yes, he is a little goofy, but he comes off more as charismatic than awkward, which didn't make him so much dorky to me as a really smart, charming guy who is falling for a grumpy girl just because she's hot… I dunno.
Will I try again?
Not likely. I will probably give this author another chance (I want to read My Best Friend's Ex), but I wasn't 100% sold on the writing style either, unfortunately. We shall see, though! You can't win them all!
Did you read any of these books? What were your thoughts? Are there any books you haven't been able to finish lately?