Let's pretend that you and I are going out and grabbing a cup of tea (or coffee… or wine) and chatting about what we've been up to lately.
This week was my first week back in the office. I was able to work from home for the past couple of weeks since it was Winter Break, so it was nice to be able to work in my PJs and not spend a million dollars on gas and tolls.
Getting back in the groove of things at work was fine since I got quite a bit done at home. Surprisingly enough I'm much more productive at home because I'm not getting interrupted a million times a day.
Anyway, let's get on with it!
At Present I Am…
Reading
Audio
Tower of Dawn by Sarah J Maas


This has been sitting in my Audible library essentially since it came out, but I just wasn't in the mood for fantasy. I've been reading nonstop contemporary for a while now and I think I'm ready to suspend a little reality and read a tome.
Goodreads | Amazon
Ebook
All I Want for Christmas by Jennifer Gracen


Ughhh, I know! Christmas is over, but I'm still trying to finish this book. I'm the worst at sitting down and reading. I'm such a multitasker that when I do sit and read, I start feeling antsy because I keep thinking of all the things I should be doing instead. That's why I go through so many audiobooks! This book has been cute so far, but it's just taking me so long to finish!
Goodreads | Amazon
Hard Copy
Co-Wrecker by Meghan Quinn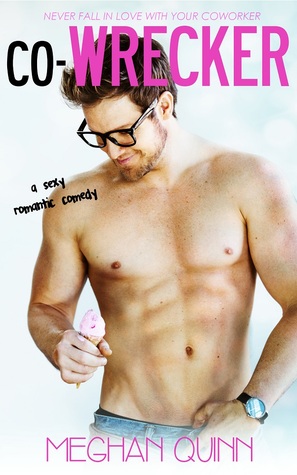 I've also been taking my time reading this one for the same reasons as above and also because the main character is annoying me, but I am determined to pull through!
Goodreads | Amazon
Writing

I've actually mostly been journaling lately, something that I do frequently in the beginning of the year. I like to kind of map out all of my goals and organize them into tangible, doable pieces. I start with my Train of Thought journal where I basically just write out #allthethings until I sort it all through, then break it down from there.
Watching
I have been watching zero TV and movies lately. Mostly because when I do want something to be playing in the background or I want to dive into a storyline, I'd rather read. However, usually for at least an hour or so at night I tune in to YouTube and watch beauty videos. Some of my favorite Beauty YouTubers are
Tati
,
LustreLux
,
Desi Perkins
,
Jaclyn Hill
, and
KathleenLights
.
Consuming
It's actually been cold in Florida this past week. Lows in the 20s-30s and highs in the 50s-60s. All of my friends up north are probably like, "Girl, that's nothing!" But, let me tell you, this Florida girl barely survived.
First of all, I have next to zero cold weather clothes, so there was a lot of just wearing leggings under dresses for me. I literally have two pairs of dress pants for work. The rest of the time I'm in skirts and dresses.I will, however, admit that I was excited to wear my scarfs and boots. Those things rarely ever see the light of day.
Anyway, I also got a chance to make my favorite chili recipe without feeling weird about bringing it in to work to eat for lunch when it is 90 degrees.
What's your favorite chili recipe?
Listening to

I am unabashedly in love with Taylor Swift's new album, so when I'm not blasting audiobooks, I'm usually listening to my Favorites playlist or her new album.
My favorite songs are Gorgeous (because it's freaking hilarious), Getaway Car, Delicate, Call it What You Want, Dress, and End Game (OMG Ed Sheeran rapping is life, I'm deeply considering making an audio file of just his part of that song that repeats for like 10 mins straight.)
Obsessing over
Lance from the Pucked series

My sister just finished Pucked Off by Helena Hunting and now I finally have someone to talk to about that freaking book. I'm just so deeply in love with Lance's character, I read the book a month ago and I'm still just as infatuated.
If you haven't read the Pucked series yet, you need to. It's by far my favorite contemporary romance series.
What's Next

The biggest thing I'm looking forward to this month is the library book sale over at my mom's library (about an hour and a half away). They put on the freaking best book sales. I'm legit taking off of work to get there on the first day. And you totally have to go both days because they refresh the books throughout the day. I end up buying a million books and only paying, like, $10. Plus, it supports the library.
Be prepared for a massive book haul at the end of the month!
Your Turn!
So, what have you guys been up to this month? What's on the docket for next month?