Overall Rating: 5 Stars
Forever Pucked (Pucked, #4) by Helena Hunting
[Audiobook Purchased from Audible]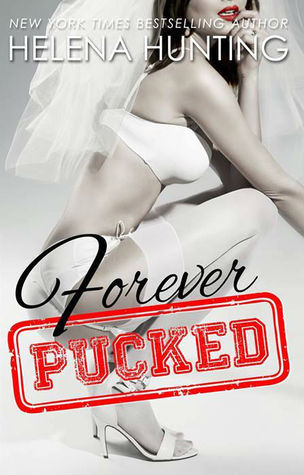 Being engaged to Alex Waters, team captain and the highest paid NHL player in the league, is awesome. How could it not be?

In addition to being an amazing hockey player, he's an incurable romantic with an XL heart, and an XXL hockey stick in his pants. And he knows how to use it. Incredibly, orgasmically well. Alex is the whole package and more. Literally. Like his package is insane. Total world record holder material.

So it makes complete sense that Violet Hall can't wait to nail him down to the matrimonial mattress and become Mrs. Violet Waters.

It's so romantic.

Violet is totally stoked to set a date.

Eventually. At some point. Likely before the next millennium. Or when Violet stops getting hives every time someone brings up the wedding, and their mothers stop colluding on stadium sized venues. Whichever comes first.
Review
No one could possibly have been happier than I was when I saw that there was another book about Alex and Violet. Seriously. I freaking love these two and this book did not disappoint.
I think the thing I loved the most about this book was how it brought back all the hysterics and swoony moments that the first book about them had, but with an entirely different set of obstacles.
Despite how over-the-top this couple tends to be, the issues felt so realistic when they could've easily felt contrived just to have another novel about a beloved couple. I could've easily felt frustrated with Violet's problems with the wedding (especially since Alex is freaking perfect for her), but I definitely did not. In fact, I was completely sympathetic.
And, bonus? The little glimpse into how much I would eventually fall in love with Lance makes my stomach flip just thinking about it. (For those that don't know, I'm a little behind on writing reviews, so as I'm writing this one, I've already read the last book in this series which is about Lance and it happens to be my favorite one of them all.)
Audiobook Performance: 4 Stars

While Emily C. Michaels' performance was ok, I definitely preferred Muffy Newton who narrated for Violet in the first book. Jeremy York is a great narrator, though and they both did a great job.
Butterfly Rating: 5 Stars

Lots of wonderful butterflies in this one.
Re-read Worthiness: Yes
Abso-freaking-lutely
Bookshelf Placement: Yes
Book Boyfriend Rating: 5 stars

I've mentioned this before, but it's worth mentioning again. I adore Alex. A-DORE.
"Free" Reading Availability
✘ Kindle Unlimited
✘ Prime Reading
✘ Audible Romance Package
(As of DATE)