It's a brand new year, and you know what that means? A brand new Goodreads Challenge is in full effect.
I blew past my goal in 2017 (I read 101 of my goal of 100 books. Check out my favorites here.) and this year I'm upping the game to 125. That's a lot of reading for someone who works more than full time and has two little kids, but I'm ready for the challenge.
Here is what I anticipate reading in January. Of course, these things can (and likely will) change… best laid plans and all that. Here goes!
Bree's Reading List for January 2017
These are all books I already own. (Gotta clean out those bookshelves!)
Audiobooks
Reclamation (The Club Trilogy, Book 2) by Lauren Rowe
Synopsis
Jonas and Sarah's addictive love story picks up right where the first book left off, hurtling to a heart-stopping conclusion that will leave readers breathless and screaming for the unforgettable final installment of The Club Trilogy.
I am chomping at the bit to read this book. After reading and loving Captain and Ball Peen Hammer by this author, I just had to read this series since those two books are a spinoff of The Club Trilogy.
The Redemption (The Club Trilogy, Book 3) by Lauren Rowe
Synopsis
In this heart-racing installment of The Club Trilogy Jonas Faraday continues his quest to overcome his demons. But is he fated for a lifetime of heartbreak and tragedy—or will he finally find his redemption?
Obviously, I'm going to have to finish out this series, so the third book in The Club series definitely makes this list.
Hooking Up by Helena Hunting
Synopsis
In this heart-racing installment of The Club Trilogy Jonas Faraday continues his quest to overcome his demons. But is he fated for a lifetime of heartbreak and tragedy—or will he finally find his redemption?
I still haven't recovered from the Pucked series by this author and I'm already jonesing for something similar, so I can't wait to break into some of her other books to see if I love them just as much!
Porn Star (P*rn Star #1) by Laurelin Paige and Sierra Simone
Synopsis
Everybody knows Logan O'Toole, world famous porn star.

Except then Devi Dare pops into my world, and pretty soon I'm doing things that aren't like me–like texting her with flirty banter and creating an entire web porn series just so I can get to star in her bed. Again. And again.

With Devi, my entire universe shifts, and the more time I spend with her, the more I realize that Logan O'Toole isn't the guy I thought he was.

So maybe I'm not the guy you thought I was either.
Sierra Simone hasn't let me down yet. I loved Priest and American Queen, so I'm excited to read this novel. I absolutely loved Lingus by Mariana Zapata, and I'm anticipating this book to had a touch of that book with Sierra Simone's eyebrow-raising style.
eBooks
All I Want for Christmas (The McKinnon Brothers Book 1) by Jennifer Gracen
Synopsis
Cassandra Baines almost has it all: a flourishing career as one of the youngest English Lit assistant professors at NYU, an apartment in a city she adores, and a close circle of lifelong girlfriends that are like sisters. The only thing she doesn't have is someone special to share it with. She's been married to her work since Sean McKinnon broke her heart seven years ago.

Musician and bar owner Sean McKinnon keeps busy—too busy for a love life. He blew it with Cassie all those years ago, and no one has held a candle to her since.

But then one fateful night, of all the people in New York City, Cassandra walks into his bar, and he's drawn to her as strongly as ever. She wants nothing to do with him, but he's not going to give up so easily.

Can a bit of New York Christmas magic help two people take a second chance on true love?
Ok, so I totally meant to finish this before Christmas and it just didn't happen, so it's on my reading list for this month. So far, I'm really enjoying it!
Beginner's Guide: Love and Other Chemical Reactions (Talking Nerdy #1) by Six de los Reyes
Synopsis
Falling in love is a chemical reaction.

Just ask Kaya Rubio, twenty-five year-old Molecular Genetics graduate student and research assistant. Fed up with her spinster aunts' relentless reminders and unsolicited advice regarding her Single Since Birth status, she designs a scientific, evidence-based methodology to find her a suitable partner in time for her cousin's wedding. As any good scientist knows, any valid experimental design requires a negative control. Enter the most unsuitable candidate for a potential boyfriend: the messy, easygoing, café owner Nero Sison. Her null hypothesis? Going out with Nero would establish her baseline data without catalyzing the chemical reaction she seeks.

But when Kaya's recorded results refuse to make sense, she is forced to come to the conclusion that there are some things in life that are simply, by nature, irrational and illogical. And that sometimes, chemistry doesn't always happen inside a lab.
I've had this book on my Kindle FOREVER and I have no idea why I haven't read it yet. I've heard great thing about this book and I can't wait to read it!
Hopeless (Hopeless #1) by Colleen Hoover
Synopsis
Sometimes discovering the truth can leave you more hopeless than believing the lies…

That's what seventeen-year-old Sky realizes after she meets Dean Holder. A guy with a reputation that rivals her own and an uncanny ability to invoke feelings in her she's never had before. He terrifies her and captivates her all in the span of just one encounter, and something about the way he makes her feel sparks buried memories from a past that she wishes could just stay buried.

Sky struggles to keep him at a distance knowing he's nothing but trouble, but Holder insists on learning everything about her. After finally caving to his unwavering pursuit, Sky soon finds that Holder isn't at all who he's been claiming to be. When the secrets he's been keeping are finally revealed, every single facet of Sky's life will change forever.
I've been burned by Colleen Hoover in the past (It Ends With Us shocked the hell out of me) and I have a feeling this book will be no different, I still can't wait to read this one. I've heard great things about it.
Hard Copy
Co-Wrecker by Meghan Quinn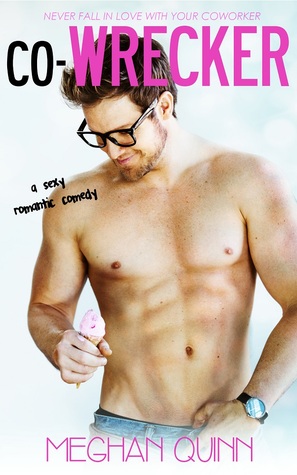 Synopsis
What do ice cream and Sadie Montgomery have in common? They're both ice cold, but one taste is never enough.

I wanted to be friends — I would have even settled for her seeing me as anything but a nerd — but there was no getting through. So just like any hard-headed, red-blooded man out there, I made up my mind.

I'd make my coworker fall for me.

I'd like to say it was simple, but like every other epic love story, all it took was one drunken night and a lot of naked courage to get the girl. For a moment, at least.

Love with a coworker is never simple, especially since Sadie's trying to keep us on the low. Not to mention her persistent ex-boyfriend who won't leave her alone. But I've never been good at giving up, and I don't plan to start now.

The whole thing is a recipe for a rocky road, but I plan to eat the whole gallon, no matter how bad the brain freeze.
I actually already started this book and am hovering on the edge of tossing it into the Did Not Finish pile because the main character is annoying the crap out of me, however, I'm holding out hope because I've heard such good things about the second book in this series. Let's see if I can power through!
Lover by Marni Mann and Gia Riley
Synopsis
The attraction was undeniable.
I couldn't escape him.
I didn't want to.
I was his.
He was mine.
But he wasn't my husband.

My once treasured marriage was now flawed and imperfect.
By the time the guilt set in, it was too late.
Reality was trying to keep me away from my obsession.
My husband was that reality.
My obsession was West.

But West was forbidden. Taken. Married.
We were swingers.
It was the perfect arrangement.

Until I fell in love…
With West.
I picked this up at a book convention a few months ago since it was on my To Be Read list. A few Goodreads friends of mine read this and really liked it. I'm a little hesitant because of the whole cheating thing, but we shall see how it goes!
The Moon & More by Sarah Dessen
Synopsis
Luke is the perfect boyfriend: handsome, kind, fun. He and Emaline have been together all through high school in Colby, the beach town where they both grew up. But now, in the summer before college, Emaline wonders if perfect is good enough.

Enter Theo, a super-ambitious outsider, a New Yorker assisting on a documentary film about a reclusive local artist. Theo's sophisticated, exciting, and, best of all, he thinks Emaline is much too smart for Colby.

Emaline's mostly-absentee father, too, thinks Emaline should have a bigger life, and he's convinced that an Ivy League education is the only route to realizing her potential. Emaline is attracted to the bright future that Theo and her father promise. But she also clings to the deep roots of her loving mother, stepfather, and sisters. Can she ignore the pull of the happily familiar world of Colby?

Emaline wants the moon and more, but how can she balance where she comes from with where she's going?
Sarah Dessen is an auto-read author for me and when I found this book at my library bookstore and realized I've never read it, I immediately picked it up. She is one of, if not my favorite YA authors of all time. I seriously haven't read a book of hers that I didn't enjoy.
What's on YOUR reading list this month? Post your list or a link to your blog post in the comments!