Overall Rating: 5 Stars
Dear Aaron by Mariana Zapata
[Audiobook Purchased from Audible]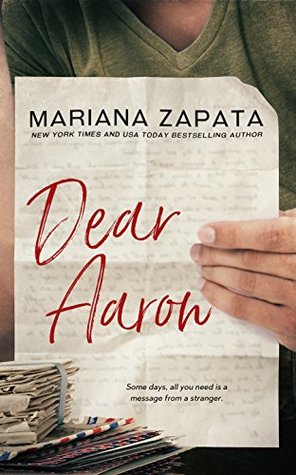 Ruby Santos knew exactly what she was getting herself into when she signed up to write a soldier overseas.

The guidelines were simple: one letter or email a week for the length of his or her deployment. Care packages were optional.

Been there, done that. She thought she knew what to expect.

What she didn't count on was falling in love with the guy.
Review
I have been waiting far too long to get my hands on this book. And by "far too long," I mean "until the audiobook came out" and I'm glad I did. The audiobook was wonderfully performed by one of my favorite readers, Callie Dalton with reader Teddy Hamilton.
Anyone who has been reading my reviews knows that I'm a bit Mariana Zapata obsessed. She is a auto-buy author for me and when I read about the premise of this novel, I knew I was going to love it.
MZ is the QUEEN of slow burns and Dear Aaron was absolutely no different than her other torturously slow burning novels. And I use the term "torturously" with all the love in the world because as much as you are absolutely dying for her characters to get together, you love every second that they are not.
I wasn't sure what to expect when I first started reading this particular book. It was a lot different than the rest of her novels in that the first part of the book was written entirely in letters. You only knew about the characters by what the letters inferred and while this could have backfired, it didn't at all. I loved learned about the characters' personalities through what they wrote to each other before I ever really got a peek into their minds.
As is common with MZ's books, there were so many squeal-worthy and swoony moments. I devoured this book in a day.
Audiobook Performance: 5 Stars

Like I mentioned before, Callie is a favorite reader of mine and she's read most of MZ's books. I hope MZ sticks with her as a narrator! I love, love, loved the dual narration during the chat scenes between Teddy and Callie. It truly made the book come to life. I highly, highly recommend this book in audio format.
Butterfly Rating: 5 Stars

There were plenty of butterfly-inducing moments in this book that I absolutely loved. MZ manages to incite a ton of swoony moments without the use of a ton of steam. #respect
Re-read Worthiness: Yes
I'll certainly be re-reading this one at some point!
Bookshelf Placement: Yes
I need ALL OF HER BOOKS on my shelf. I may create a shrine.
Book Boyfriend Rating: 5 stars

I freaking love Aaron something fierce!