Overall Rating: 5 Stars
The Gentleman's Guide to Vice and Virtue by Mackenzi Lee
[Audiobook Purchased from Audible]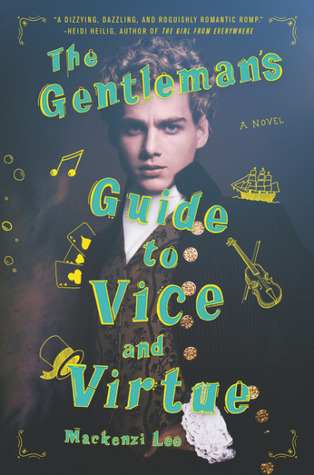 Henry "Monty" Montague was born and bred to be a gentleman, but he was never one to be tamed. The finest boarding schools in England and the constant disapproval of his father haven't been able to curb any of his roguish passions—not for gambling halls, late nights spent with a bottle of spirits, or waking up in the arms of women or men.

But as Monty embarks on his Grand Tour of Europe, his quest for a life filled with pleasure and vice is in danger of coming to an end. Not only does his father expect him to take over the family's estate upon his return, but Monty is also nursing an impossible crush on his best friend and traveling companion, Percy.

Still it isn't in Monty's nature to give up. Even with his younger sister, Felicity, in tow, he vows to make this yearlong escapade one last hedonistic hurrah and flirt with Percy from Paris to Rome. But when one of Monty's reckless decisions turns their trip abroad into a harrowing manhunt that spans across Europe, it calls into question everything he knows, including his relationship with the boy he adores.
Review
And, so, it appears I have a new book to add to my favorites list and it has everything to do with my obsessive love with the main character, Monty. While I enjoyed the story, it is Monty's character and his charming, hilarious cluelessness that made me fall in love with the story. Pair that with the strong supporting characters and this book makes it to my Top 5 list!
I always get super excited about reading hyped books because I tend to really enjoy what the masses are raving over. This book was no different, and though historical novels are not my favorite, I loved this one and it was all thanks to the characters.
Monty reminded me of Adrian Ivashkov from Vampire Academy and he just happens to be one of my favorite characters in the series. I have to say, I like Monty even more than Adrian. I love how much he adores Percy, I love his self-deprecating sense of humor and his optimism even in dire circumstances (of which he finds himself in quite a bit in this book.)
And the romance in this novel was so, so sweet. Just like Percy. I absolutely fell in love with Percy and, of course, Monty's sister Felicity. Percy was such a perfect antidote to Monty's huge personality and Felicity was the grounded, brilliant, fierce pillar that both men needed.
These three characters could go through just about anything, mundane or otherwise, and I'd happily read about it simply because I like their dynamic together that much.
Audiobook Performance: 5 Stars
This is me swooning all over the place thanks to Christian Coulson's performance. If you get the chance, I highly recommend the audiobook version of this novel. I cannot say enough about it!
Butterfly Rating: 4 Stars
I had all the cute little tinkling butterflies while reading this novel. Like I mentioned above, the romance was so sweet, I found myself putting a hand to my chest and "awww"ing all over the place.
Re-read Worthiness: 5 Stars
I will absolutely re-read this one when given a chance!
Bookshelf Placement: Absolutely
The glorious thing about my mom having the same taste in books as I do and the fact that she doesn't like audio or digital books is that if I recommend a book to her, she'll buy the hard copy and give it to me when she is done. I have a special place in my library for this one!
New Book Boyfriend: Yes!
Monty and Percy are the newest loves of my life.
This book was my first Buddy Read with Amanda from A Court of Books and Love
---
Grab a Copy of The Gentleman's Guide to Vice and Virtue by Mackenzi Lee
Amazon
| Audible | Barnes & Noble | iBooks | Google Books | Kobo
---