Overall Rating: 5 Stars
Days of Blood and Starlight by Laini Taylor
[Audiobook borrowed from local library]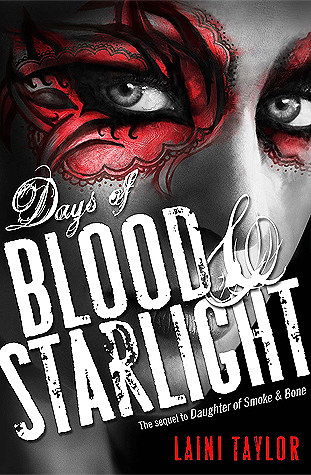 Goodreads synopsis:
Art student and monster's apprentice Karou finally has the answers she has always sought. She knows who she is—and what she is. But with this knowledge comes another truth she would give anything to undo: She loved the enemy and he betrayed her, and a world suffered for it.

In this stunning sequel to the highly acclaimed Daughter of Smoke & Bone, Karou must decide how far she'll go to avenge her people. Filled with heartbreak and beauty, secrets and impossible choices, Days of Blood & Starlight finds Karou and Akiva on opposing sides as an age-old war stirs back to life.

While Karou and her allies build a monstrous army in a land of dust and starlight, Akiva wages a different sort of battle: a battle for redemption. For hope.

But can any hope be salvaged from the ashes of their broken dream?
Review
Like the first book in this series, Days of Blood and Starlight effortlessly whisks you away into a human world of angels and monsters by way of beautiful prose, vivid characters, and all-consuming storytelling.
I never forgot how much the first book resonated with me or why I loved it, so I can't exactly say that reading this one so many years later "reminded" me why I love this series. I honestly can't tell you why it took me so long to pick up the second book in the series because, though I couldn't quite remember the story very well, I remember how the story made me feel. Which was in awe. Of the world building, the characters, and, mostly, the writing.
Typically, when it comes to reading fantasy for me, I like a whole lotta romance with a touch of fantasy. So, to me, this book leaned much more heavily on the fantasy side and I totally didn't mind. I didn't mind that there wasn't even a Happily for Now and that's saying something. The reason why I didn't mind? The story was just so good, I didn't find myself on relying on the romance aspect to get my through it.
I'm so impressed with the way Laini Taylor can manage fantastical prose and great humor without either sounding cheesy or forced. Laini is the type of author whose talent with words can ruin you for other authors if you're not careful.
There were several times while driving or showering that I was listening to this audiobook and wishing I could write down quotes without crashing or dripping all over the paper.
Anyway, it's safe to say that I won't be waiting so long to read the next book.
Audiobook Performance: 5 Stars
Khristine Hvam has become one of my all-time favorite audiobook readers. Her voice acting, accents, and interpretations of characters are absolutely perfect. And, beyond all that, I just love the sound of her voice in general.
Butterfly Rating: 2 Stars
Like I mentioned above, there wasn't too much romance in this book. I vaguely recall there being a tiny bit more in the previous book.
Re-read Worthiness: 4 Stars
It's hard for me to rate anything in this category with 5 stars only because I have so many new books to read, but I do feel like this entire series deserves a re-read at some point!
Bookshelf Placement: Yes
Absolutely. I need this entire series displayed!
New Book Boyfriend: Yes
Akiva, how I love thee! You can totally be my book boyfriend, though he's not really a "new" one. He's been my book boyfriend since I read book 1 years ago. A new addition to my book boyfriends would be Ziri! I totally fell in love with his character in this book.
---
Grab a Copy of Days of Blood and Starlight by Laini Taylor
Amazon
| Audible | Barnes & Noble | Google Books | Kobo
---